While Alex was out of town, I decided to finally make Espresso-Chocolate Chip Shortbread. I feel guilty whenever I make something that I know Alex won't like, because he can't share in my excitement and enjoyment. When he's out of town, this guilt is alleviated since he's out having great meals I don't have access to.
[This post contains affiliate links. I may make a commission for purchases made through links on this post.]
These Espresso-Chocolate Chip Shortbread (I found the recipe at Smitten Kitchen) were amazingly simple to make, and tasted great. It's really a shame I didn't make them sooner. This recipe starts by mixing water with instant espresso powder (affiliate link), which is definitely worth the investment. This espresso powder (affiliate link) was the only brand I could find at Schnucks, where it was about $5.50, and it was worth the money (particularly given how much I bake).
How to Make Espresso-Chocolate Chip Shortbread
I love using my stand mixer to make shortbread. It really does the best job of creaming the butter to easily incorporate all the flour and sugar that goes into the cookies. I creamed the butter/margarine with the powdered sugar for a few minutes, using a rubber spatula to scrape down the sides; added vanilla and the dissolved espresso; and then added the flour on low speed, mixing only until combined. I used a rubber spatula to gently cut in mini chocolate chips.
I scraped the dough into a one-gallon zipper bag and patted out the dough all the way across the bag, and to within an inch of the zipper. I zipped the bag and stored the dough in the fridge for 4 or 5 hours, until I was ready to bake them. I used scissors to cut up the side and bottom of the bag, and used a pizza cutter to cut the dough into squares. (I wish I'd used a ruler, because they were uneven.) I put the cookies on 2 Silpat-lined baking sheets, pricked each cookie with a fork, and baked them in a 325F oven for about 18 minutes. I switched the position of the baking sheets about halfway through the baking time to make sure they baked evenly.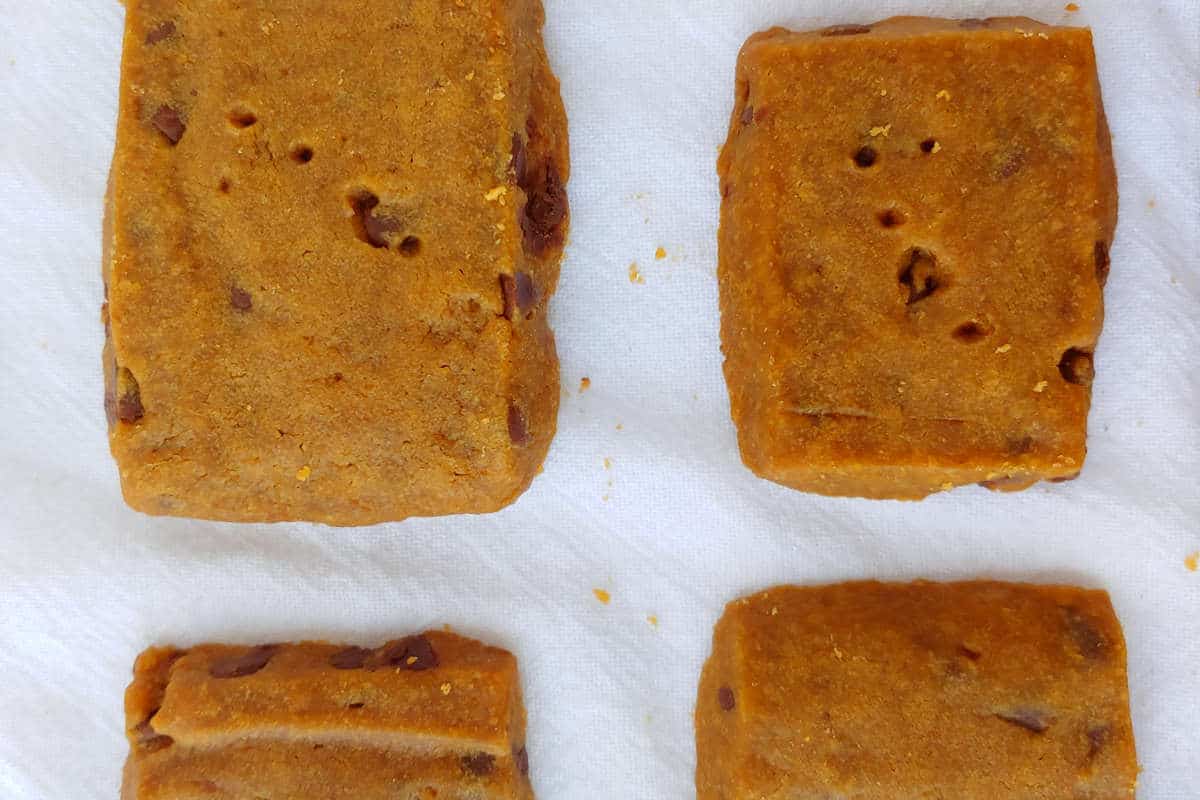 These were fantastic cookies. The coffee flavor was strong and definite, but not overwhelming - think of the flavor of good, pure coffee ice cream. Mini-chocolate chips were delightful in the cookies. The shortbread was firm - not delicate, as they held up when I carried them to and from work over several days. The texture was great - tender and not too crumbly when you bit into it. The cookies were not dry. They had a toasty aroma that wafted out of the container the moment you opened it.
These cookies are great for coffee lovers everywhere, and even some people who think coffee is just okay. (I know, because my non-coffee drinking friend Jen liked them too.) This was an easy but impressive recipe that I definitely think I'll make again.
Want other espresso desserts? Try Espresso Biscotti, Espresso Granita, Chocolate Espresso Tiramisu, or Espresso Brownies. For other shortbread, try White Chocolate Cherry Shortbread or Hearst Castle Shortbread.
Like this recipe or have questions? Rate it or leave a comment below!
In the past:
One Year Ago: How I Make Ribs in the Oven
Two Years Ago: Sourdough Grissini, Black Forest Cherry Cake
📖 Recipe
Espresso-Chocolate Chip Shortbread
These Espresso Chocolate Chip Shortbread are toasty, tender, not crumbly, and addictive. They're an easy-to-make yet sophisticated cookie that wows guests.
Keyword:
chocolate chip espresso shortbread
Ingredients
1

tablespoon

instant espresso powder

1

tablespoon

boiling water

16

tablespoons

unsalted butter

(at room temperature)

⅔

cup

powdered sugar

(75 grams)

½

teaspoon

vanilla

⅛

teaspoon

table salt

2

cups

flour

(245 grams)

⅔

cup

mini chocolate chips

(or 4 ounces finely chopped chocolate)

powdered sugar

(to serve) (optional)
Instructions
Combine espresso powder and boiling water; let cool.

Using the paddle attachment of a stand mixer, combine butter and powdered sugar on medium speed for 3 minutes until very smooth. Beat in vanilla, espresso, and salt. Reduce speed to low and stir in flour until just combined. Fold in chocolate chips with a rubber spatula, or with your mixer on low.

Scoop dough into a gallon-size zipper bag. Leave the bag open and use a rolling pin to roll the dough into a rectangle ¼ inch thick. Be sure to lift the plastic occasionally to reduce creases. Press the air out of the bag, seal the bag, and freeze for 30 minutes, or refrigerate for 2 hours and up to 2 days.

Place bag on a cutting board and cut it open along a seam. Turn out the dough onto the cutting board and cut the dough into 1 ½ inch squares (a pizza cutter or bench scraper both work well for this). Place on parchment-lined baking sheets and prick each cookie with a fork.

Make sure cookie racks are positioned in the top and bottom thirds of the oven. Bake at 325F for 18-20 minutes, rotating the cookie sheets once halfway through baking. The cookies will not turn golden (although they're already dark, so it's hard to tell).

Transfer cookies to a cooling rack. Dust with powdered sugar if desired. Cool completely before serving.
Recipe Notes
adapted from Smitten Kitchen
(Recipe and photos updated, slightly, in November 2018.)