It's fall and I should be writing about apples and pumpkins and soups. It's finally cool, and I will cook and write about some of these things soon, I promise. But in the meantime, let's talk ice cream.
I have no particular season for ice cream. I keep multiple kinds of ice cream in the freezer in February.
When I bought the Guinness for the Chocolate Stout Cake that I made a few months ago, I immediately thought of also making the Milk Chocolate Guinness ice cream that I made several years ago. I loved that ice cream, and I still do. I think of it not infrequently. It's amazing.
[This post contains affiliate links. I may make a commission for purchases made through links on this post.]
I adapted this recipe from David Lebovitz's The Perfect Scoop (affiliate link), which is my favorite ice cream book, hands-down. I have loved every ice cream I have made from the book. I went through an ice cream-making phase when I first bought in 2012, and many of my favorites, such as Anise Ice Cream and a tiramisu ice cream that I was too busy eating to write about it, are from it. When I make ice creams like this, I wonder why I bother to buy ice cream at all. You can't buy ice cream like this in grocery stores!
Plus, since homemade ice cream is so good, I eat less of it at a time, and so I have it in my house longer.
I really love this ice cream. The ice cream is creamy and smooth with malty chocolate. You can definitely taste the Guinness in it. Guinness in particular is not a high-proof beer (about 4% alcohol), but what there is makes the ice cream perfectly scoopable right from the freezer. (I have to let other homemade ice creams rest on the counter for 5-10 minutes if they don't include alcohol in the mixture.)
Ice cream isn't difficult to make, and no step that requires you to work takes particularly long, but it is a process; chilling the ice cream mixture and the ice cream itself does take some time. To make this ice cream, you make the custard for this ice cream on the stove, then mix it into the chopped chocolate. Chill the custard well, then churn in your ice cream maker. I have the Kitchenaid ice cream attachment (affiliate link) for my stand mixer, which works much better than the cheapie ice cream maker I had before that. Still, whatever model ice cream maker you have will work.
Storage: I used to store my ice cream in glass Pyrex containers because that was all I had that was large enough. Now I actually save the plastic cartons from ice cream (my favorite for this is Blue Bunny, since their containers are all plastic and reusable) and wash them out so I can put homemade ice cream in them. They work perfectly.
I seriously can't recommend this ice cream highly enough. There's a good chance this will be exactly what I use my remaining bottles of Guinness for.
Want more ice cream? Try Dried Apricot-Pistachio Ice Cream or Aztec Hot Chocolate Ice Cream.
Like this recipe? Rate it and leave a comment below!
In the past:
Three Years Ago: Cinnamon Bread
Four Years Ago: Banana Muffins
Five Years Ago: Espresso-Chocolate Chip Shortbread
Six Years Ago: Acorn Squash with Chile-Lime Vinaigrette
Seven Years Ago: Sourdough Grissini
📖 Recipe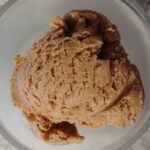 Milk Chocolate Stout Ice Cream
This lightly sweet Milk Chocolate Stout Ice Cream includes stout beer, such as Guinness, so it's definitely not for kids! Smooth and creamy, it's a chocolately, malty homemade ice cream that's perfect straight from the freezer. A wonderful adult ice cream.
Ingredients
7

oz

milk chocolate

(in pieces) (I used Ghirardelli milk chocolate chips)

1

cup

milk

(1% or 2% is fine)

½

cup

sugar

a pinch of salt

4

egg yolks

1

cup

heavy cream

¾

cup

stout beer

(such as Guinness, which is what I've used)

1

teaspoon

vanilla
Instructions
Place milk chocolate pieces in a bowl large enough to hold the ice cream mixture. Heat milk with sugar and salt in a saucepan. Gradually whisk the hot milk into the egg yolks in a separate bowl, then return to the saucepan. Cook over medium heat, stirring constantly, until mixture coats a spoon. Pour custard through a strainer (don't skip this; it removes clumps) over the milk chocolate; stir until smooth. Add heavy cream, stout beer, and vanilla.

Chill mixture several hours or overnight. Churn in your ice cream maker according to the manufacturer's directions. Scrape ice cream into a freezer-safe container and freeze for a few more hours to allow the ice cream to firm up. It scoops well straight from the freezer.
Recipe Notes
adapted from The Perfect Scoop
(Post updated with new writing and photos. Originally published September 2012.)