This week I really wanted cookies, but didn't want super-easy bar cookies or brownies (which I've made often lately) or chocolate chip cookies (ditto). I recently bookmarked a lot of sugar cookie recipes from King Arthur Flour, and quickly chose to make Vanilla Sugar Cookies, a straightforward recipe that seemed like it would make roughly what I wanted, without rolling out and cutting the dough.
I'm glad that I made these cookies. They were exactly what I wanted this week.
📖 Recipe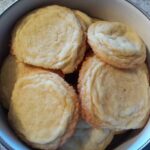 Vanilla Sugar Cookies
adapted from King Arthur Flour
Ingredients
½

cup

vegetable oil

½

cup

unsalted butter

(I used the real stuff, not margarine, this time)

½

cup

powdered sugar

½

cup

granulated sugar

1

egg

1

tablespoon

vanilla

¼

teaspoon

almond extract

(optional)

⅛ - ¼

teaspoon

nutmeg

(optional)

a scant ¼

teaspoon

baking soda

¾

teaspoon

baking powder

½

teaspoon

salt

2

cups

all-purpose flour

granulated sugar for rolling
Instructions
With an electric mixer, beat together oil, butter, and sugars until nearly smooth; a few small lumps are okay. Add egg, vanilla, almond extract, and nutmeg, and beat until incorporated. Add baking soda, baking powder, salt, and flour, and mix on low until smooth. Refrigerate dough for 2 hours.

Preheat oven to 350F. Grease 2 (or 3) baking sheets or line with parchment/Silpats. Scoop dough using a 1-tablespoon cookie scoop or spoons; roll gently into a ball, then coat with sugar.

Bake for 13 minutes, rotating the pans if necessary, for 13 minutes, until the edges are beginning to brown. (Don't have your bottom sheet too close to the heating coils or your cookies will spread a little too much.) Cool for 10 minutes before removing from the baking sheet. Once cool, store in an airtight container; if you want softer cookies, the recipe says to leave out overnight before storing.
These cookies were really good. They weren't the kind of (soft and chewy) cookie that I usually make, but neither were they hard and crunchy. The 13-minute bake time yielded a perfect cookie with crisp edges but a slightly tender center. I liked the light, almost-sandy texture that the cookies had at the edges. I could taste the almond extract in the cookies, but didn't notice the nutmeg as I grated it over the mixing bowl rather than measured it, and probably didn't add enough. You could easily make the cookies without either flavor, but the almond extract added a little something extra without being overwhelming. I easily see myself making these sugar cookies again.
Not quite the cookies you were hoping for? Try Sprinkle Cookies, or Confetti Cake for a sugar cookie-flavored cake.