I don't know about you, but I need some cookies to chase away the January grays. So I recently decided to revisit one of my favorite cookies - these bright, cheerful Sprinkle Cookies.
I call it a not-too-sweet sugar cookie, which sounds like an oxymoron, but I promise it isn't. It's a wildly vanilla-y cookie dough, made a little richer with a little cream cheese.
They bake beautifully, and the dough freezes well. And they're delicious!
Seriously, you should make these. After all, who could resist this face?
Jump to:
[This post contains affiliate links. I may make a commission for purchases made through links on this post. As an Amazon Associate, I earn from qualifying purchases.]
I originally wrote about this recipe back in 2016, when I made them with a toddler nearby. She played with Keurig cups while I assembled cookie dough, and stole sprinkles that fell off of the cookies that I put on baking sheets.
(She was very good, and only smooshed one cookie with a container after I flattened it with a glass. But who can blame her for trying to help with the cookies!)
The cookies were delicious then, and are still delicious now, but this walkthrough needed a thorough update!
Ingredients
This is a basic (and good!) sugar cookie dough that's been enriched with a little cream cheese. Since it uses cream cheese, it's imperative that you bring it and your butter to room temperature before making the dough. As we know from making cheesecake, cold cream cheese leaves behind lumps, which will never blend in.
In addition to adding a little richness and complexity, I believe the cream cheese helps keep the cookies moist and fresh for longer. We use a little baking soda with our baking powder to interact with the cream cheese to help the cookies puff and rise.
Vanilla is the main flavoring in this. Don't skip it! Use real vanilla, not the artificial stuff. You can also add ¼ teaspoon of almond extract.
Other usual ingredients include granulated sugar, all-purpose flour, eggs, and salt.
I've adapted this recipe from Smitten Kitchen's Confetti Cookies, which she adapted from King Arthur Baking's Sugar Cookies. King Arthur Baking added the cream cheese; Smitten Kitchen added the sprinkles. I cut back on the sugar in the dough by accident, but we like it that way!
How to make
So your butter and cream cheese are at room temperature, finally. Let's make some cookies!
Start by beating together your butter and cream cheese until fluffy.
Add egg and vanilla, and beat well.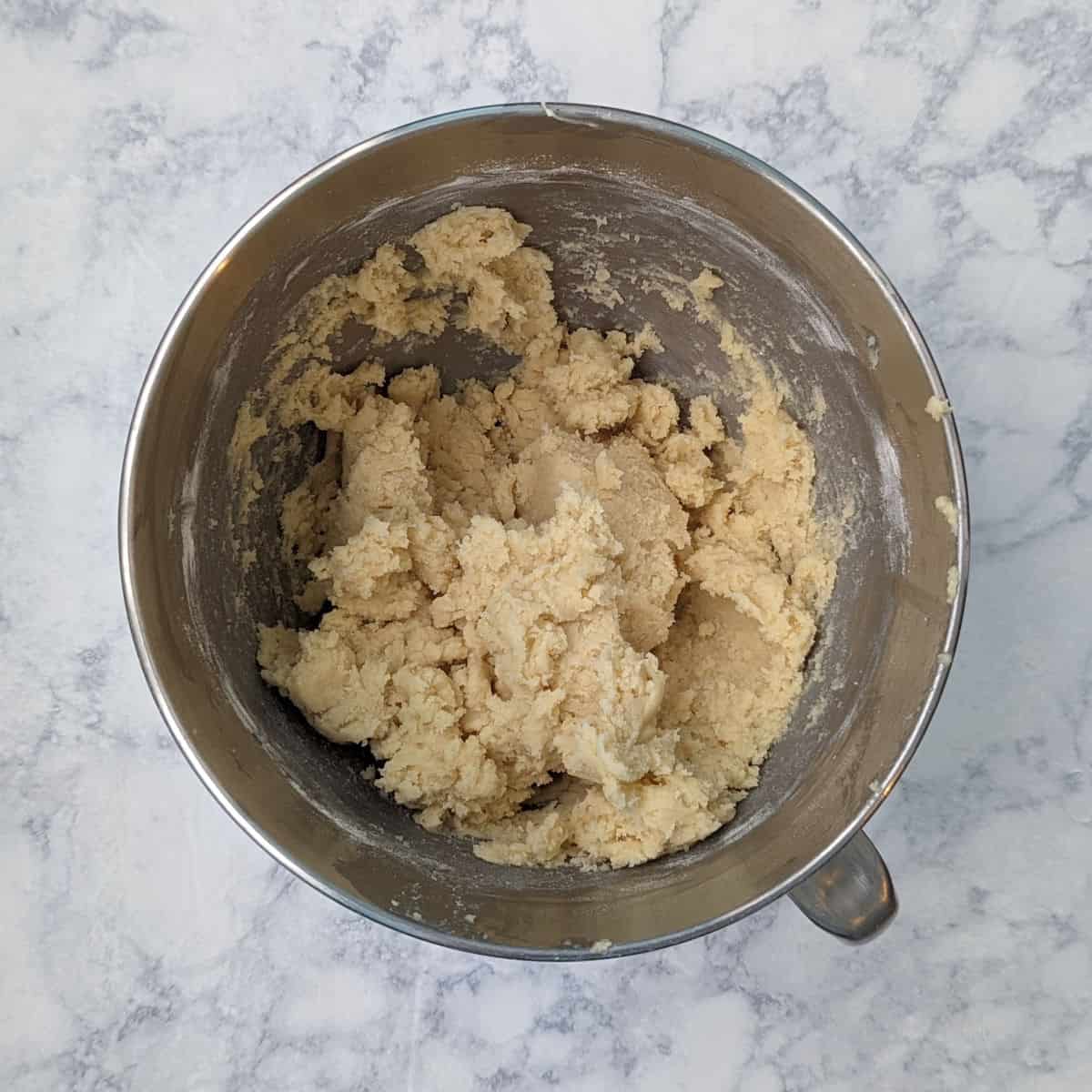 Mix in flour, baking powder, baking soda, and salt on low until just combined.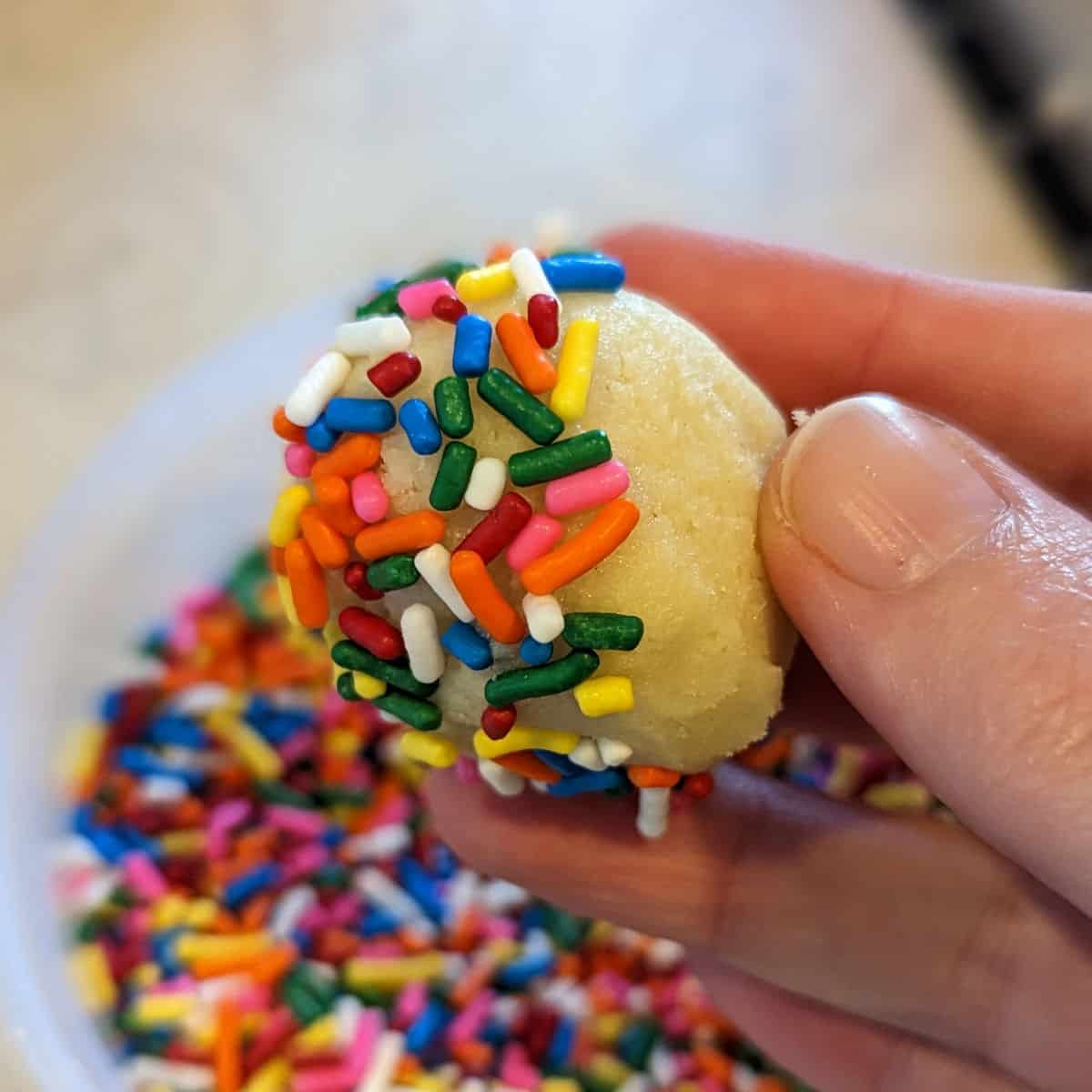 Portion the cookie dough, form into balls, and drop into sprinkles!
I highly recommend using a medium (1.5-tablespoon or #40) cookie scoop (affiliate link); it makes portioning the dough evenly so much easier! But you can scoop with two spoons instead - just be careful that you make all your cookies the same size.
You can roll the whole ball in the sprinkles, or just the top that you see, as I do. If you run out of sprinkles or don't want to buy that many, roll the cookie dough in sugar instead.
Use the bottom of a glass to flatten the cookies to about ½ inch thickness. The cookies will puff up as they bake, rather than spread out, thanks to the cream cheese. The dough doesn't usually stick to the glass, but dip it in granulated sugar if it does.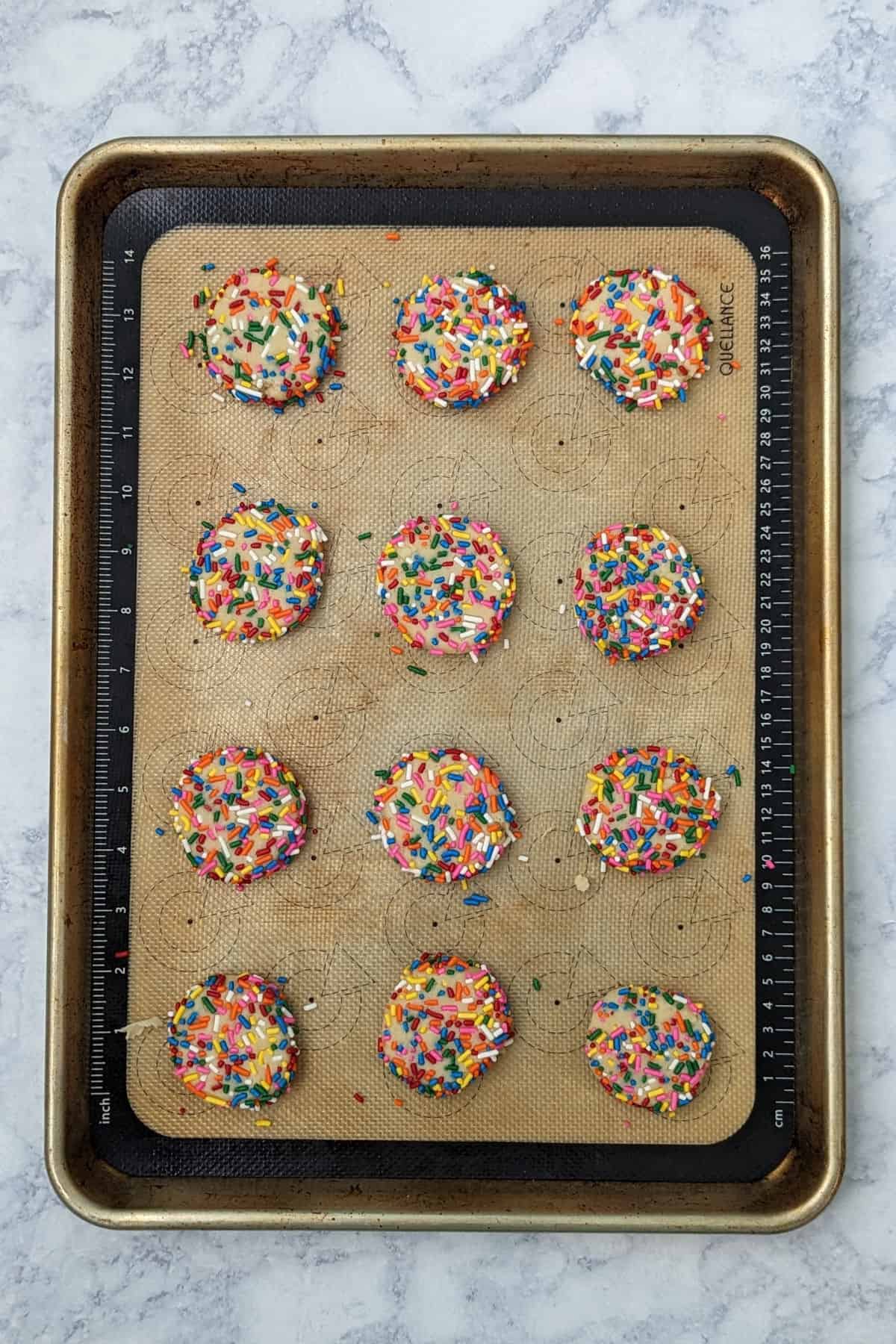 Move the cookies to a silicone mat (affiliate link) -lined baking sheet, if you didn't already flatten them directly on it.
Bake until they're pale and just beginning to brown on the bottom.
Let cool for about 5 minutes before transferring them with a spatula to a cooling rack.
Make-Ahead
I have a shelf in my freezer that's just premade cookie dough, ready to be baked at the drop of a hat. I usually freeze about half of the dough of any batch of cookies that I make.
Sprinkle Cookies are a great addition to it! This dough freezes very well. Simply make and scoop the dough and roll it in sprinkles as above.
Place the balls of cookie dough on plate or baking sheet lined with plastic wrap or parchment or waxed paper. This lining makes it easier to remove the cookies later on.
You don't want the cookies touching each other, but you can crowd them close since you're not baking them yet. Flatten the cookies, then place the baking sheet in the freezer.
After the cookies are frozen, remove them from the sheet and store them in a labeled freezer-safe zipper bag. Don't forget baking instructions!
When you're ready for cookies, preheat the oven. Once it's ready, remove however many cookies you want from the bag. Place them on the baking sheet and bake them, from frozen, for 1-2 minutes longer than you would originally - so for 10-11 minutes.
Storage
Store in an airtight container at room temperature. They'll stay good for several days, if you and your family don't devour them all before that.
Interested in other recipes? I save and share recipes I like or want to try on my Pinterest page - follow me there! You can also check out my Facebook page for more recipes and helpful tips. I'm also happy to try to help troubleshoot my recipes there.
Have you tried this recipe? Or have a question about it? Rate it or leave a comment below! (PS: rating my recipes helps other people find them, too!)
Want more vanilla and cheer?
📖 Recipe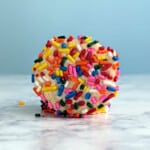 Sprinkle Cookies
These sugar cookies are easy to make in advance! Coat with sprinkles, flatten, freeze, and bake for 2 extra minutes directly from the freezer.
Keyword:
confetti cookies, sprinkle cookies, sugar cookies
Ingredients
16

tablespoons

butter

2 sticks/8 ounces/227 grams; softened

¼

cup

cream cheese

2 ounces/56 grams, or ¼ of a 8 ounce brick of cream cheese; softened

1

cup

sugar

200 grams

1

egg

~50-55 grams

2

teaspoons

vanilla extract

10 grams

3

cups

flour

360 grams

1

teaspoon

baking powder

¼

teaspoon

baking soda

¾

teaspoon

table salt

1

cup

sprinkles
Instructions
In a stand mixer or with a hand mixer, cream butter, cream cheese, and sugar for 1-2 minutes on medium speed, until fluffy.

Add the egg and vanilla extract. Mix for another minute, until it's blended. Scrape the bottom of the bowl to be sure everything's well mixed.

Add flour, baking powder, baking soda, and salt. Mix on low speed until dough is almost combined. Scrape the bottom of the bowl again to check for unmixed bits of butter or flour. Stir again briefly to get the dough to just come together.

If your dough is too soft to hand, refrigerate it for 20 minutes. Otherwise, start scooping.

Place sprinkles in a bowl. Use a #40/ 1.5 tablespoon cookie scoop, or two spoons, to portion the cookie dough. Roll the dough briefly in your hands to make a rough ball. Then dip the top ½-2/3 of the ball in the sprinkles, coating it thickly.

Place cookie dough, sprinkle-side up, on a parchment- or Silpat-lined cookie sheet about 2 inches apart. Use the bottom of a glass to flatten the cookies to ¼-1/2 inch thickness.

Bake cookies for about 9 minutes at 375F. Cookies will be pale, but will have began to brown on bottom.

Cool for 4-5 minutes on the baking sheet, then remove the cookies to a cooling rack. Once completely cooled, store in an airtight container at room temperature.
Make-Ahead
Roll the dough into balls and coat in sprinkles as above. Place on a plate or baking sheet lined with plastic wrap or waxed paper, then flatten each with a glass.

Once the cookies are completely frozen, remove them from the plate and store in a labeled freezer bag.

When you want cookies, remove them from the freezer once your oven has preheated. Place them on your prepared baking sheet and bake them, from frozen, for about 11 minutes. No need to thaw first. Enjoy!
Recipe Notes
I've only used full-fat cream cheese in this recipe. Lower-fat Neufchatel cheese may work fine.
If you run out of sprinkles - and sometimes I do! - just roll the cookies in granulated sugar instead. 
We flatten these cookies because they will puff up as they bake, but they will not spread as much due to the cream cheese in the dough. 
This recipe was adapted from Smitten Kitchen and King Arthur Baking
Originally written in September 2016. Rewritten in January 2023.
Calorie count is an estimate only, and will vary.
Recipes from the past
[Post was originally published September 16, 2016. Instructions, walkthrough, and photos updated in January 2023.]