I've waited for a while my zucchini plant to grow zucchinis. When it finally does, I don't have the time to pick them! The result: I picked two zucchini on a Monday that I should have picked on Friday.
This gave me 6 cups of shredded zucchini. Seems like a good reason to make zucchini bread, recipe #172 of the year.
[This post contains affiliate links. I may make a commission for purchases made through links on this post.]
I don't think I'd made zucchini bread since I was in high school. Since I had 2 large zucchini, I decided to make 2 loaves - one for a coworker, and one to share at work and Alex's lab.
[August 2019: At the time, I didn't realize that zucchini could keep growing and growing and growing! Pick your zucchini while they're little for the best flavor for eating - although it doesn't matter in a recipe like this. Want to know more about growing zucchini? Check out a few tips from The Spruce.]
I decided to choose a basic, classic recipe from the 2000 Betty Crocker Cookbook (affiliate link). Although you can make it in two 8x4-inch loaf pans, I decided to make it in a 9x5 inch loaf pan (affiliate link) instead.
I made two separate batches, measuring out the ingredients for both of them at the same time. One batch makes a ton of batter, so I had two very full bowls. I baked these for the full 80 minutes - this length will depend on the amount of moisture in your zucchini. I pulled them out of the pans that night, and served them the next day.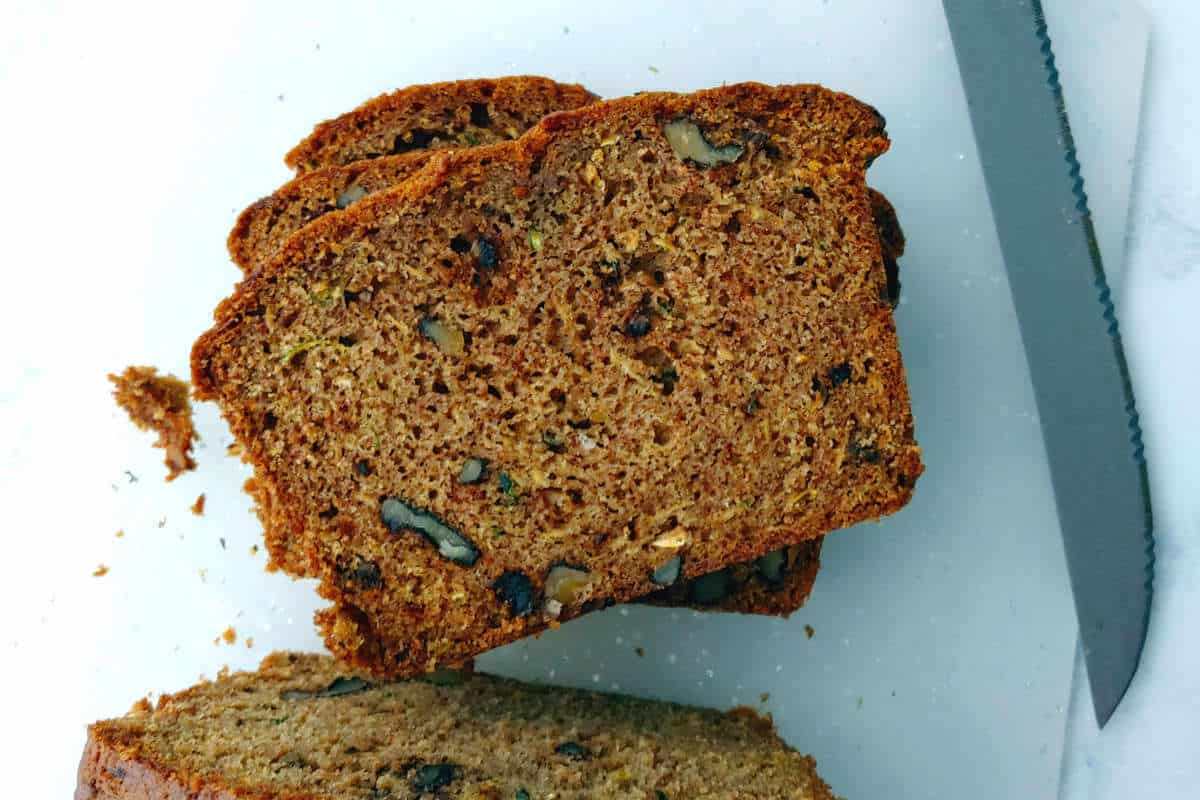 The bread was very moist. It had a very nice, springy texture. It's a little weird eating something with cloves in the summertime, though - I tend to associate cloves with fall and winter. This is a standard, dependable recipe worth returning to.
Interested in other recipes? I save and share recipes I like or want to try on my Pinterest page - follow me there! You can also check out my Facebook page for more recipes and helpful tips. I'm also happy to try to help troubleshoot my recipes there.
Have you tried this recipe? Or have a question about it? Rate it or leave a comment below! (PS: rating my recipes helps other people find them, too!)
Want other sweet ideas for zucchini? For sweet, try Chocolate Zucchini Cake or Chocolate Zucchini Bread.
📖 Recipe
Zucchini Bread
This classic recipe for zucchini bread yields moist, tender bread, made with all whole wheat flour. A great way to use up those late-season zucchini!
Keyword:
classic zucchini bread, zucchini bread
Ingredients
3

cups

shredded zucchini

(~400 grams)

1 ⅔

cups

sugar

(333 grams)

⅔

cup

vegetable oil

(145 grams)

2

teaspoons

vanilla

4

eggs

3

cups

whole-wheat flour

(440 grams) (all-purpose is fine too)

2

teaspoons

baking soda

1

teaspoon

salt

1

teaspoon

cinnamon

½

teaspoon

cloves

(optional)

½

teaspoon

baking powder

½

cup

chopped walnuts

(optional)
Instructions
Grease bottom only of 9-inch loaf pan. Place oven rack at the bottom position in the oven.

Whisk together zucchini, sugar, oil, vanilla, and eggs, stirring until the eggs are thoroughly combined.

Use a rubber spatula to stir in flour, baking soda, salt, cinnamon, cloves, and baking powder. Stir in nuts.

Pour into the prepared loaf pan. Bake 70-80 minutes at 350F, until a toothpick inserted into the center comes out clean.

Cool bread in pan for 10 minutes, then turn out onto a wire rack to cool the rest of the way to lose additional steam. Cool completely before slicing and serving.
Recipe Notes
Baking times can vary from batch to batch due to differences in moisture content of the zucchini.
This recipe can be baked in two 8x4-inch loaf pans for 50-60 minutes.
I used a shiny aluminum pan. Reduce heat by 25 degrees for dark or glass loaf pans.
Adapted from the 2000 Betty Crocker Cookbook
Calorie count is calculated in MyNetDiary and is an estimate only. 
[Original post from July 26, 2010. Recipe, text, and photos updated August 18, 2019.]