This sandwich bread - Yeasted Banana Sandwich Bread - is the bread that I make the most.
I first made it in 2011, and again in 2014 for Bread #39 of my 50 weeks of bread challenge. It was the first loaf of bread I made after we moved to New Jersey.
Banana in sandwich bread? Although it seems strange, but it actually makes sense. Potato flakes or starch are sometimes added to bread dough to keep the bread tender. Banana is starchy and serves the same function, with the benefit of adding a fruity tone to the bread.
I'd never made sandwich bread before making this recipe for the first time in November 2011. It was an unusual way to use up those pesky bananas that keep ripening before we eat them - and it is still, in my opinion, the best way.
Now I make it any time I have an overripe banana in the fridge, and I prefer this bread over any sweet banana bread any day.
It's so easy to make, and the results are so satisfying.
[This post contains affiliate links. I may make a commission for purchases made through links on this post. As an Amazon Associate, I earn from qualifying purchases.]
Making Yeasted Banana Sandwich Bread
In the years since I found this recipe (originally from King Arthur Flour), I've made it countless times - more often than any other bread recipe by far.
I generally use my stand mixer to make sandwich bread, although you can knead it by hand or use a bread machine.
Just assemble all of your ingredients in the mixer bowl. Use the dough hook to mix the dough. This is about 5 minutes on medium speed, until the dough is smooth and tacky. (I usually swap in up to 1 cup of whole wheat flour in place of the other flour; if you do, your dough will not be completely smooth.)
You will need your dough to be tacky - not too firm and not too sticky - to form a nice loaf of sandwich bread. Think of how a Post-It note clings to your finger but doesn't stick to it. If you have dough left on your finger after you touch the dough, add a little more flour. If it doesn't cling to you at all, you will probably want to add a tiny bit of water.
Since banana sizes vary, you will probably need to make an adjustment or two to your dough, but I've never had problems with baking dough that's slightly wet or slightly dry.
Let your bread dough double in a covered, greased bowl. I usually preheat my oven for 1-2 minutes, shut it off, and stick the dough in there for this. Takes about an hour.
To shape the loaf, you basically flatten the dough into a rectangle roughly the size of a sheet of paper on a floured surface. You fold it like a tri-fold letter. Fold the top third toward you and tuck the seam into the dough.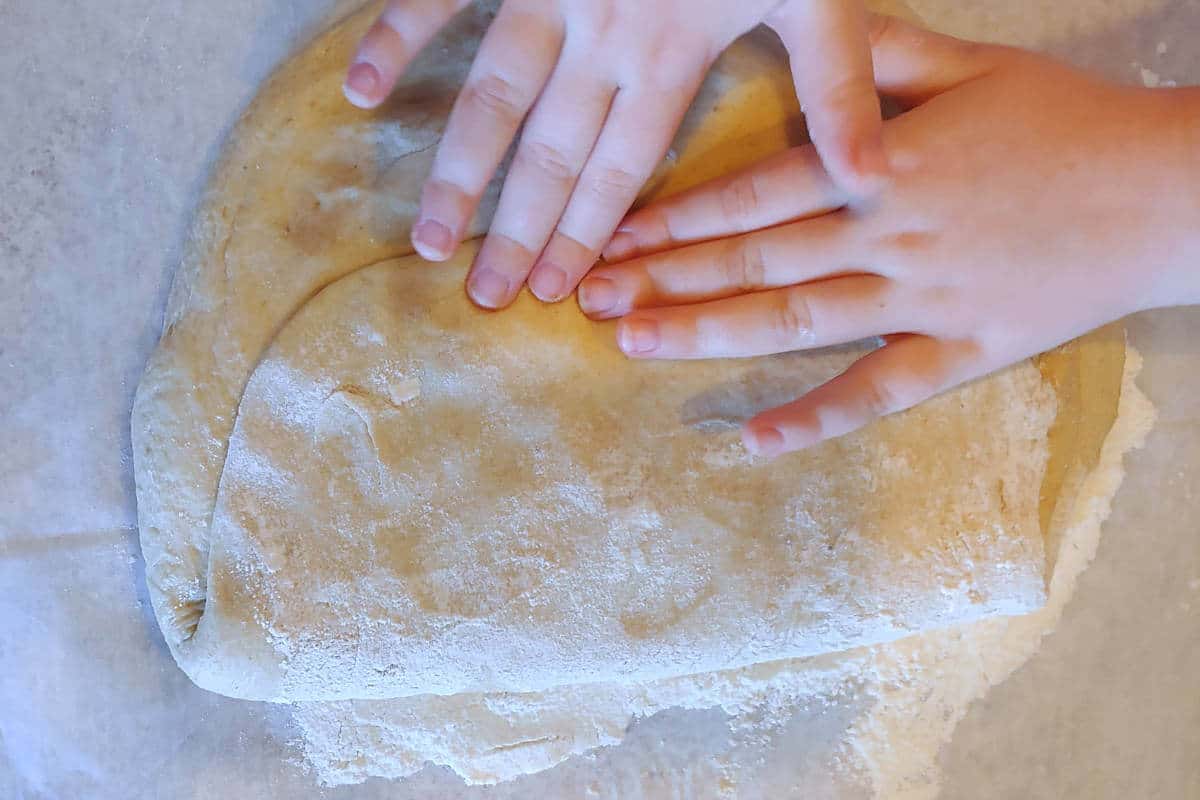 Fold the bottom part up and over the rest of the dough, sealing it into the back of the dough.
The top of the loaf should look tense and stretched over. If it's not, try folding it again! If your bread still seems too slack and not tense after that, try tucking the ends of it underneath (almost like you're trying to wad it into a ball) until it's tight. Then pat it down into the greased loaf pan.
I've definitely had to play with loaves, rolling them back and forth, folding them again, to get that structural tension in the top of the dough. It's necessary to get a good rise and crust.
Place the dough in the greased loaf pan (8.5x4.5 inch or 9x5 inch loaf pans are both fine) with the seam-side down and let it rise, covered, until the top of the loaf rises 1 inch over the top of the pan.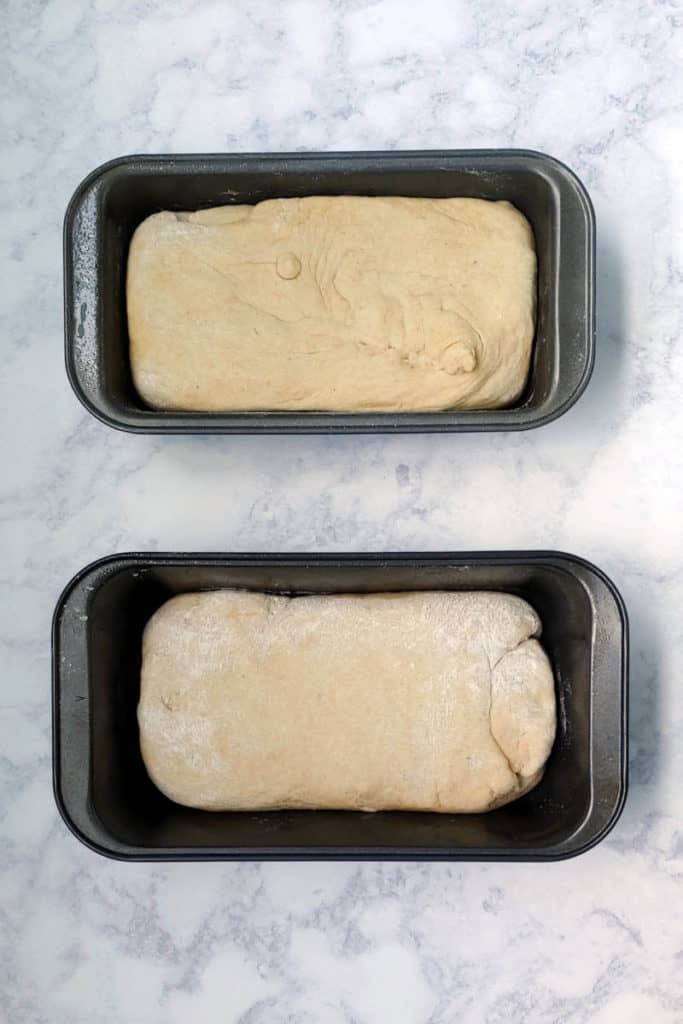 Bake at 350F for 35-40 minutes, regardless of whether your pan is a 8.5x4.5 inch or a 9x5 inch loaf pan (affiliate link). Let cool completely before slicing.
Jump to Recipe
How to Serve Yeasted Banana Sandwich Bread
I recommend having a serrated bread knife (affiliate link) to cut this this loaf. It helps you cut it neatly and evenly. I slice the loaf as I need it, and leave the rest uncut.
Storage: I have a bread box (affiliate link) that I use, mainly because I make often enough bread to justify owning one. It keeps for 4-7 days, depending on how humid your climate is. It will dry out slightly and be more suitable for toast than sandwiches toward day 7, but you may want to check for mold if it's summer and/or humid. When I didn't have a dedicated box, I kept the uncut loaf in the loaf pan and covered it tightly with aluminum foil.
This loaf of bread rises beautifully. It's soft and not dry. The bread smells fruity as it bakes, but not overwhelmingly so. The bread is lightly sweet, with a slight fruity undertone to it. It's tender but can be a little dense if you cut your slices thickly.
Slices of this were perfect for toast with jam (or mango butter, which is what I had). It also makes for a delightful peanut butter and jelly sandwich.
However, what I love to do is slice the loaf into thick slices and turn them into French toast. The bread provides all the flavor, so you don't have to add sugar or vanilla to your batter. And the bread compliments any fruity toppings for your breakfast perfectly.
Jump to Recipe
I truly adore this bread. Sure, Classic Banana Bread is a great way to to use up those pesky bananas that ripe before you can eat them, but when you made this sandwich bread, you can make breakfast and lunch! And save your pleasure baking for cookies!
Do you want other sandwich breads, perhaps for savory sandwiches? Try Multigrain Sandwich Bread, Multigrain Bread Extraordinare (although I prefer the sandwich bread), or New York Deli Rye.
Bananas for bananas? Try Classic Banana Bread, a low-fat Banana-Raspberry Bread, or Banana Cupcakes with Peanut Butter Frosting. If you need a gluten-free version, try this Gluten-Free Banana Bread. Don't feel a baked good? Try making Roasted Banana Ice Cream.
Interested in other recipes? I save and share recipes I like or want to try on my Pinterest page - follow me there! You can also check out my Facebook page for more recipes and helpful tips. I'm also happy to try to help troubleshoot my recipes there.
Have you tried this recipe? Or have a question about it? Rate it or leave a comment below! (PS: rating my recipes helps other people find them, too!)
In the past:
One Year Ago: Simple Cauliflower Curry
Two Years Ago: Stewed Chicken and Chickpeas, Fudge Brownies
Three Years Ago: Chocolate Peanut Butter Bites
Six Years Ago: Honey Bourbon Cheesecake, Light Wheat Bread
Seven Years Ago: Blueberry Crisp Ice Cream
Eight Years Ago: Cherry-Peach Sangria review, Peach Raspberry Pie
Ten Years Ago: Zucchini Bread
📖 Recipe
Yeasted Banana Sandwich Bread
My favorite sandwich bread, a perfect way to use a single overripe banana. Tender and slightly sweet, it's great for PB&J or French Toast. It works well with a substitution of up to ⅓ whole wheat flour.
Keyword:
banana bread, banana sandwich bread, sandwich bread
Ingredients
3

cups

flour

(360 grams, plus extra as necessary; use up to 1 cup of whole wheat flour)

2 ¼

teaspoons

yeast

(mine was active dry)

1

teaspoon

table salt

¾

cup

milk

(175 grams)

2

tablespoons

honey

(42 grams)

2

tablespoons

butter

(28 grams, preferably softened)

1

banana, peeled

(100-120 grams) (see note)
Instructions
Combine all ingredients in the bowl of your stand mixer and knead on medium with the dough hook for 5 minutes, until the dough is smooth and tacky. The dough will clear the sides of the bowl, but not the bottom.

[If you add some whole wheat flour, your dough will not be smooth. To test for tackiness, touch the dough with your finger. If dough clings but releases relatively cleanly, the dough is tacky. If it doesn't cling at all, add a little water; if a lot of dough sticks, add a little flour. Mix and test again.]

If mixing by hand, combine dry ingredients. Mash your banana, melt your butter, and combine with the milk and honey. Stir liquid ingredients into dry ingredients until a dough forms, then knead (preferably in the bowl) for about 10 minutes, until dough is smooth and tacky.

Place dough in an oiled bowl, cover, and proof in a warm place for 60 minutes, until dough has doubled in size. I usually preheat my oven for 1-2 minutes to create a warm space.

Turn out dough onto a floured or oiled surface and pat into a rectangle. Fold like a letter to form a loaf, pinching the seams into the dough after each fold to increase the surface tension. Repeat if necessary if the dough is too slack. 

Place in a greased 8.5-x-4.5-inch loaf pan (although 9x5 is ok too). Spray with cooking spray, cover with plastic wrap, and let rise for another 60 minutes, until the dough has risen about an inch above the top of the loaf pan.

Bake at 350F for 35-40 minutes. The temperature of the bread will be 190F if you take its temperature. Remove from loaf pan after about 10 minutes, and cool completely on a wire rack before slicing. I can usually get 16 slices per loaf.
Recipe Notes
One large banana, in my experience, weighs 120 grams without peel. With it, I usually add another ¼ - ⅓ cup flour. If your bananas are small (75 grams on my scale, without peel), you can add 1 ½ bananas. Or, you can add a single banana and add a little extra milk as necessary to make sure the dough isn't dry.
You can use bread flour or all-purpose flour for this. I find either works fine. I usually substitute 1 cup of whole wheat flour for the all-purpose or bread flour.
If you're concerned about whether your yeast is alive, proof in the milk at 105F with a pinch of sugar for 5 minutes before adding it to the dough.
Don't have or want honey? Try agave syrup. Using maple syrup or brown sugar may also work, but you will likely need to adjust the milk or flour after mixing the dough to get the right consistency.
Recipe revised 7/25/2020
Adapted from King Arthur Flour
[Originally written November 7, 2011 and December 16, 2014. Recipe revised, pictures and text updated July 25, 2020.]