What if I told you that you could make a delicious flourless chocolate cake with very little fuss? That if you bungled the recipe, it would still be delicious?
That, my friend, is this Chocolate Truffle Cake. No separating eggs, no electric mixers necessary. It's so incredibly simple that I may never try another flourless chocolate cake recipe.
You don't need a mixer. You don't separate egg, or whip egg whites into any kind of peaks (where I usually have to Google what stiff egg white peaks look like). You just need 4 ingredients, and some time.
Okay. So I'm making this sound like a miracle recipe - and honestly, it kind of is.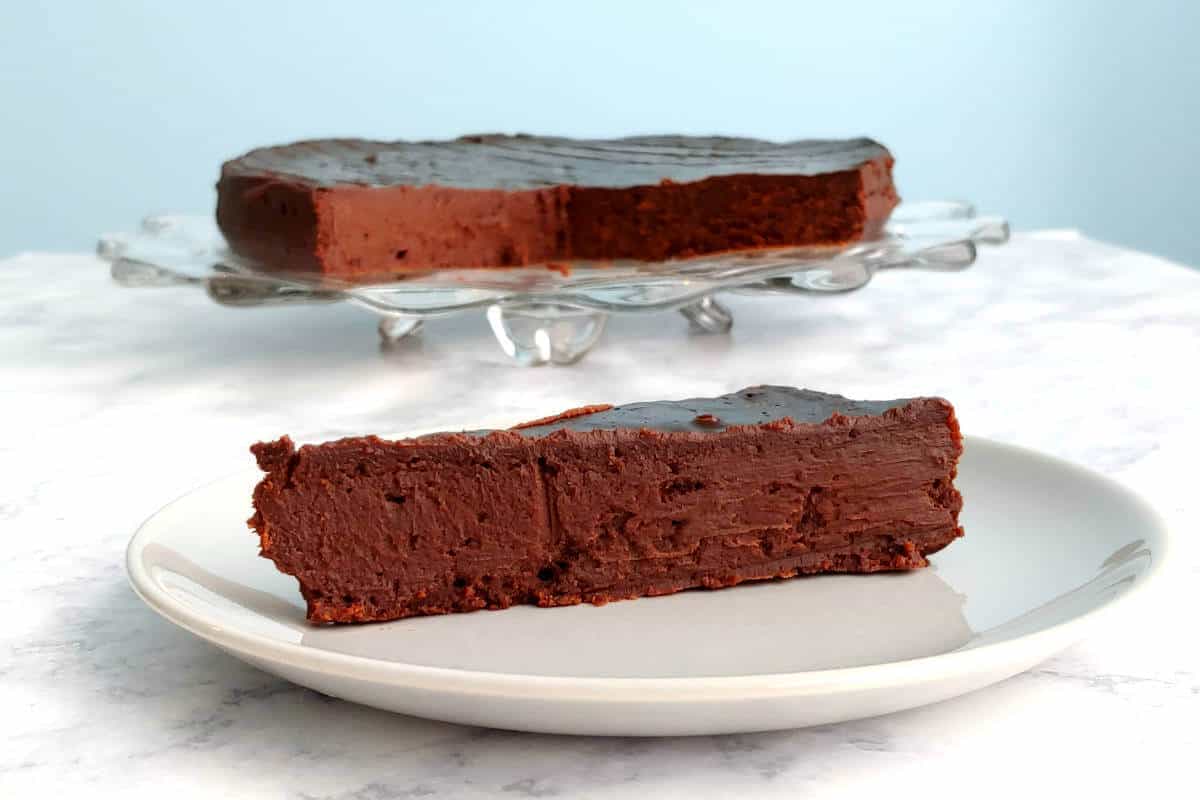 [This post contains affiliate links. I may make a commission for purchases made through links on this post. As an Amazon Associate, I earn from qualifying purchases.]
This recipe is adapted from the Chocolate Orbit Cake from a David Lebovitz's Ready for Dessert (affiliate link). When he developed this recipe, he called it "Chocolate Idiot Cake," because it was idiot-proof. And he's right. It was still delicious the time I messed it up by not actually following the instructions. Any cake that is still good when overbaked is a winner.
My friends have called it "Chocolate Truffle Cake," which is both a great name, and very accurate. This rich, dense cake melts in your mouth, just as a truffle does.
How to Make Chocolate Truffle Cake
This recipe takes just 4 ingredients - butter, chocolate, eggs, and sugar. I use the cheapest butter, eggs, and sugar I can buy. The chocolate shines, however, and you want to be sure you use good stuff. Although I bake with generic chocolate chips sometimes, I've only ever used Ghirardelli chocolate chips (affiliate link) in this. Use something delicious, that you'd like to eat on its own.
While you melt your butter and chocolate, get your pan ready. I use a 9-inch Springform pan because the bottom detaches, but you could use a cake pan as well. Grease the sides and bottom. Wrap foil around the outside bottom and sides of the pan. Then place the pan in a larger baking dish.
You're going to pour water into this larger baking dish later; it will insulate the sides of the cake, slowing down how fast it bakes and keeping it from overbaking. You want the foil to be high enough to keep water from leaking into the cracks between the side and bottom of your Springform pan.
Start by melting together your butter and chocolate. You can do this in a microwave, but Lebovitz did it in a double boiler, and so did I. (Sounds intimidating, but I promise it's not.) You'll need hot water later anyway, so might as well start heating it up now.
What is a double boiler? I promise it's not intimidating. It's a heat-proof bowl set on top of a pot of simmering water, completely covering the top and trapping the steam. The steam from the pot gently heats the bottom of the bowl, which melts the chocolate and butter.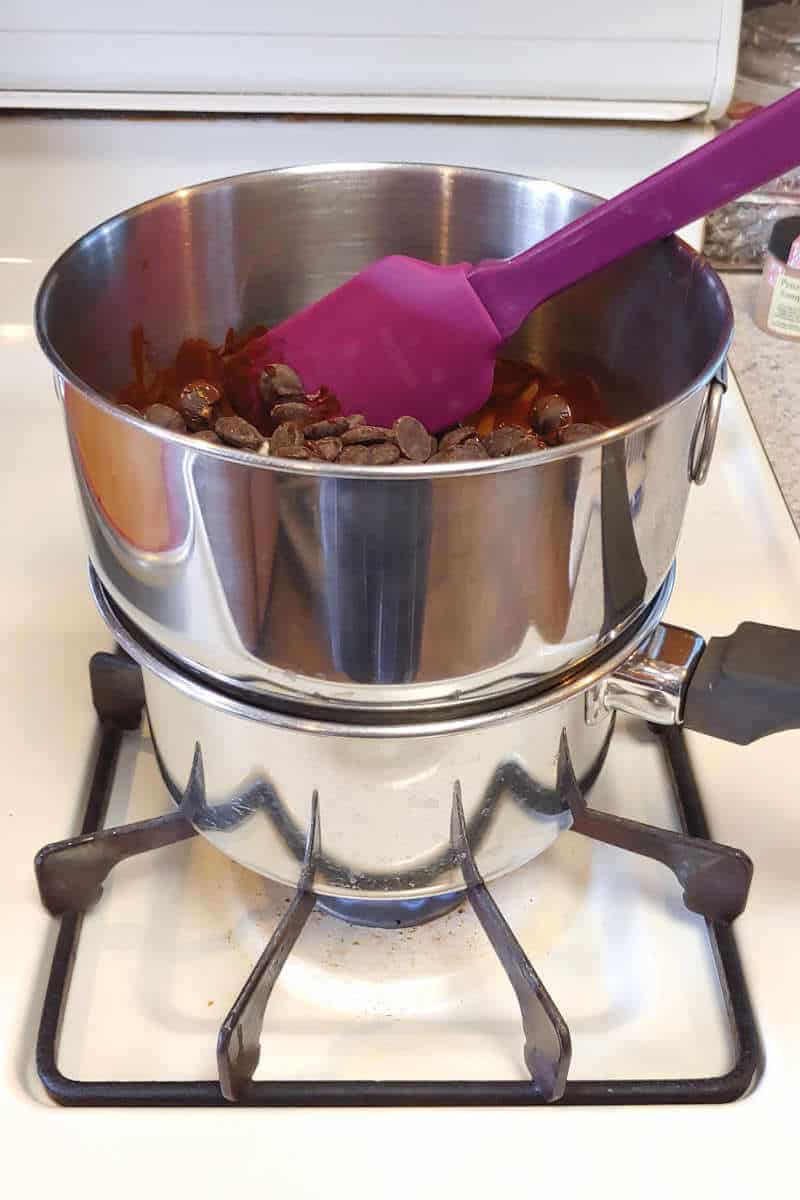 Why use it? This method helps prevent chocolate from burning or seizing by keeping it away from direct heating element or flame. It's especially helpful if you have trouble finessing the temperature on your burners.
It takes a little time to melt the chocolate and butter this way. The chocolate melted before the cold butter. You can save time by softening your butter in the microwave first.
You can also melt this in the microwave as long as you heat it in short bursts. Stir every 30 seconds for the first minute, then every 15 seconds thereafter, until everything is melted and smooth.
In a larger bowl, use a whisk to combine eggs with sugar. You're just breaking the eggs apart, not really beating them. You just don't want clumps of yolk.
Since your melted chocolate is still hot, whisk the egg mixture while you slowly drizzle in the chocolate. This will help keep the eggs from cooking, or the chocolate from seizing from hitting the cold eggs. Don't worry if the chocolate seems to separate, though; it will mix in.
Whisk the mixture just to combine. The batter will suddenly be thicker and uniform, and that's when you know you're done.
Scrape your batter into your greased pan. Then take a sheet of aluminum foil and COVER THE PAN. I completely forgot this step once. The top foil helps insulate the cake, keeping it from baking too quickly.
Pour hot water into the larger pan that holds the Springform. Water should go about halfway up the sides of your Springform pan (which will also be how high your cake batter is). I always use the water I used to help melt the chocolate, plus some extra.
This water bath is necessary. The time I didn't add enough water, the cake overbaked. (Although, it was okay with liberal amounts of whipped cream. The bottom half of that cake was perfect and delicious.)
Bake your cake for about 75 minutes. Check earlier if your oven runs hot. The cake is done when your finger comes away clean when you gently touch the cake. Mine usually needs a few extra minutes, and honestly, my finger still comes away a little chocolatey. The cake will look set but still be soft.
Remove the Springform pan from the water bath and unwrap the foil. Cool completely, then refrigerate.
Serving and Storing
Store this cake in the refrigerator. If well covered, you can enjoy slices a week later, if you haven't devoured it already.
The cake doesn't need adornment, but we like to add a little whipped cream to contrast with the rich dark chocolate. A raspberry or orange drizzle would also be lovely, but nothing too sweet, nor anything too hard or crunchy. I wouldn't want anything to interfere with the melt-in-your-mouth experience of this delicious chocolate cake.
Want more chocolate? Try a rich Chocolate Stout Cake, super-moist Chocolate Zucchini Cake, tender Double Chocolate Caramel Chip Cookies, or Double Chocolate Scones. Also consider classic Hershey's Brownies, dense Best Cocoa Brownies, or my all-time favorite, one-bowl Fudge Brownies.
Interested in other recipes? I save and share recipes I like or want to try on my Pinterest page - follow me there! You can also check out my Facebook page for more recipes and helpful tips. I'm also happy to try to help troubleshoot my recipes there.
Have you tried this recipe? Or have a question about it? Rate it or leave a comment below! (PS: rating my recipes helps other people find them, too!)
In the past:
One Year Ago: Coconut Cream Pie
Two Years Ago: Bulgogi Tacos
Three Years Ago: Tres Leches Cake
Four Years Ago: Carrot Soup with Sesame and Chickpeas
Six Years Ago: Mini Chocolate Bundt Cakes
Eight Years Ago: Beef with Capers and Garlic
Nine Years Ago: Ginger-Pecan Scones
Ten Years Ago: Kale and Potato Hash review, Espresso Brownies review, Blueberry Pie (full recipe)
📖 Recipe
Chocolate Truffle Cake
A rich, easy-to-make flourless chocolate cake. No separating eggs, no whipping egg whites. Just 4 ingredients and a little time, and you've got a delicious, sophisticated dessert!
Keyword:
chocolate truffle cake, flourless chocolate cake
Ingredients
16

tablespoons

butter

(8 ounces/225 grams)

12

ounces

dark chocolate

(340 grams or 2 cups of chocolate chips, the usual size of a bag of chocolate chips)

6

eggs

1

cup

sugar

(200 grams/7 ounces)
Instructions
Preheat your oven to 350F. Grease the side and bottom of a 9-inch Springform pan, or line the bottom and sides of a 9-inch cake pan with parchment paper.

Wrap a layer of foil around the bottom of the pan and halfway up the sides, to ensure water won't leak into the bottom. Set the prepared pan inside of a larger baking pan. You'll fill the larger pan with water later. Set aside.

Use a double boiler, or place a heat-safe bowl on a small saucepan, completely covering the top. Put a small amount of water in the saucepan, and heat water to a simmer over medium-to-medium high heat.

Add the butter and the chocolate to the bowl, and place the bowl on top of the pan of simmering water. (This can happen as soon as you turn on your burner, or once water is simmering - your choice.) Stir the chocolate mixture occasionally until everything is melted and smooth. Remove from heat.

In a larger bowl, whisk together eggs and sugar. Slowly drizzle in the warm chocolate while you whisk, to keep the eggs from cooking and the chocolate from seizing. Mix until just combined. I usually feel the batter thicken once it's combined.

Pour the batter into the greased pan. Cover the top of the pan snugly with a sheet of foil. Pour water into the larger pan until the water comes halfway up the pan. (I usually use the water from my saucepan, then add some hot tap water as needed).

Place the stacked pans in the oven. Bake at 350F for about 75 minutes. When the cake is done, the top will appear set (slightly dried, not wet). If you touch the cake softly with your finger, it will come away clean or with just a tiny bit of chocolate goo. Cake will be very soft.

Remove the cake from the water bath and the foil. Cool completely, then refrigerate before serving.
Recipe Notes
This cake relies on the chocolate for flavor, so use something dark and good. I prefer Ghirardelli here.
To melt chocolate in the microwave, heat for 30 second bursts for the first minute, then 15 second bursts. Stir after each one, and repeat until mixture is smooth. For this quantity of chocolate, however, I found the stovetop was slightly more efficient/less energy intensive.
Mix things until they're just combined. You don't need any air mixed in.
Do not skip the water bath! It slows down the cake's baking, and keeps the chocolate from burning. 
Do not skip the foil on top! Your cake will overbake if you do. Still delicious with equal parts whipped cream, but not ideal.
This recipe was adapted from David Lebovitz's Chocolate Orbit Cake, in Ready for Dessert.