These delicious, gooey Chocolate Chip Cookie Bars epitomize compromise.
For instance, you need to make a dessert for a potluck. You want to make cookies for a potluck. But you don't really want to make cookies for a potluck.
You know, the dough-scooping. Making sure cookies are spaced evenly apart. Baking one sheet at a time of cookies. (Making a test cookie first if you're ambitious.) Waiting to take cookies out of the oven so you can put another sheet in.
I get impatient, and I'm sure you do too. My impatience is exactly why I love bar cookies like these. Just mix the batter together, spread in a pan, and bake for a half an hour. Although you should let them cool completely before serving the bulk of them, you can cut a row out and eat a few while they're warm and gooey. (I did, and I will fully admit it.)
I first made this recipe in April 2011, in the early days of this blog. I loved them, but my original write-up really didn't do them justice. The potluck I went to this weekend was the perfect excuse to dust this old recipe off.
Imagine any soft chocolate chip cookie you've really, really enjoyed - and then being able to eat them - a lot of them - by spending just 10 minutes making cookie dough and spreading it into a pan and baking it.
These Chocolate Chip Cookie Bars are exactly what you want. The edges are chewy with a slight crunch. They're rich and buttery - a wonderful butterscotch blondie. There's loads of chocolate chips (not too many, despite what some reviewers at King Arthur Flour say). Baked perfectly, they're slightly underdone, almost like bars of cookie dough ready to eat. If you're not into cookie dough, bake them about two minutes longer, until a toothpick comes out with moist crumbs attached, like you do for brownies.
Making Chocolate Chip Cookie Bars
Really, making these couldn't be easier. The original recipe for Chocolate Chip Cookie Bars (from King Arthur Flour) uses a stand or other electric mixer. It didn't seem like I did 7 years ago, so I didn't now. And I'm glad - I didn't need it!
Getting these into the oven just takes 10 or 15 minutes. Melt butter (in your microwave or on your stove). Stir in brown sugar. Let cool a little, then stir in eggs and vanilla. Add your dry ingredients, then add your chocolate chips. No mixer required - just a rubber spatula and a big microwave-safe bowl! (Using a rubber spatula, and no electric mixer, will likely make these denser and more gooey. If you'd like them to have a more traditional cookie texture, use a mixer.)
I changed the recipe slightly from what I've linked to. I originally printed this out (so long ago!), and followed it directly, so it differs from King Arthur Flour's current version. Theirs uses a little less sugar, a little more salt, and a little less baking powder.
I prefer to use a metal baking pan for these. Mine is shiny, natural (not-non-stick) aluminum. Baking times will be a little different if you use a darker pan or a glass baking dish. If you are using one of those, test your bars 5 minutes before you think they'll be done; you don't want them to overbake.
Speaking of perfectly baked - these will look golden and shiny on top. You may think they're a little underdone. That's ok - good, even! Stick a toothpick into the center. I took mine out when the toothpick looked wet, but not laden with batter. This gave me rather gooey chocolate chip cookie bars, like bars of cookie dough. I expect that if you bake them a couple minutes past that, until the toothpick comes out with moist crumbs attached (like you do for brownies), you'll have thoroughly baked cookie bars. Both will be delicious.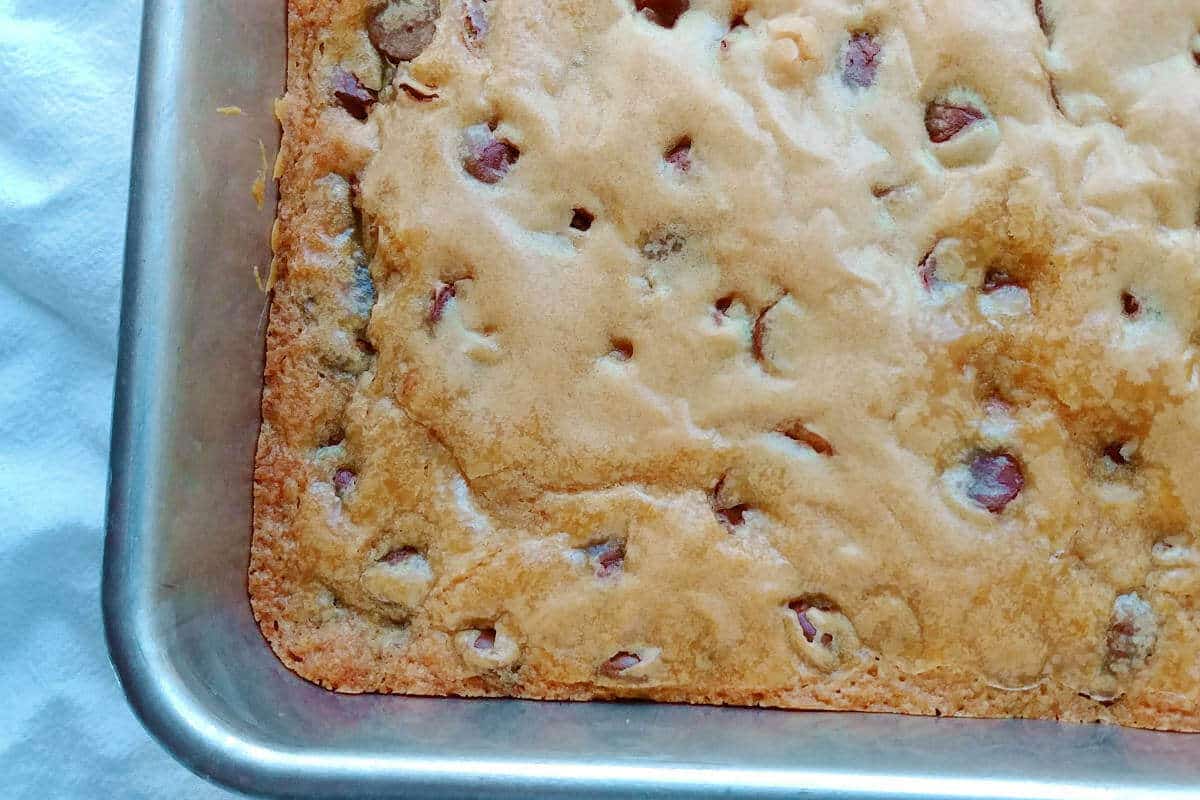 If you make them on the very gooey side, bake them a day ahead of when you plan to serve them so they'll have time to set up. They'll fall apart if you serve them warm, but won't if you let them cool completely to room temperature.
How Long Do Cookie Bars Last?
Not long! But only because you and your friends will eat them all.
That said, store them in an airtight container at room temperature. They'll still be just as moist and delicious a few days later.
Chocolate Chip Cookie Bars are perfect for potlucks. I encourage you to sneak one or two in advance when you cut them; they'll all disappear before you know it!
If you like these chocolate chip cookie bars, you'll probably also like Fudgy Butterscotch Bars, a butterscotch blondie made with a layer of sweetened condensed milk fudge.
Like this recipe or have a question? Rate it or leave a comment below!
In the past:
One Year Ago: Cinnamon Gooey Butter Cake
Four Years Ago: Gluten-Free Pita Bread
Five Years Ago: Espresso Granita
Six Years Ago: Alton Brown's French Toast, Thai-Style Vegetable Rice Noodles
Seven Years Ago: Mexican Chocolate Cream Pie
Eight Years Ago: Blueberry Cake
📖 Recipe
Chocolate Chip Cookie Bars
Chocolate chip cookies baked like brownies! Thick chocolate chip cookie bars are moist, chewy, and delicious.
Keyword:
bar cookies, blondies, chocolate chip cookie bars, chocolate chip cookies
Ingredients
⅔

cup

butter

(10 ⅔ tablespoons)

2 ¼

cups

packed brown sugar

(1 pound)

½

teaspoon

table salt

1

teaspoon

vanilla

3

eggs

2 ¾

cups

all-purpose flour

(although white whole wheat should work well too)

2 ½

teaspoon

baking powder

3

cups

chocolate chips

(18 ounces)
Instructions
Melt butter on the stove or in a microwave-safe bowl. If in the microwave, melt in 30 second bursts until mostly melted, then microwave in 10 second bursts until completely melted.

Using a rubber spatula, stir in brown sugar, mixing until combined. Add salt and vanilla.

Add the eggs and stir well to combine. (If the mixture is still hot, let it cool slightly so it won't cook the eggs when you add them.)

Stir in flour and baking powder, mixing until all the dry ingredients are moistened. Add chocolate chips.

Spread batter in a greased 9x13-inch pan. Be sure the edges are filled, then smooth the top as best as you can. The batter will be thick.

Bake in a 350F oven for about 30 minutes. A toothpick inserted in the middle will not come out clean. If it looks a little damp/wet on the ends, then the bars will be gooey (in the best kind of way). If you want to bake them all the way through instead, bake until a toothpick has moist crumbs attached (like with brownies). The top of the bars will be shiny, although the 2 inches around the edges will look done. Bars will firm up somewhat as they cool.

Cool for at least 15 minutes before cutting and removing any from the pan, but cut only what you want to eat. Cool completely before cutting and storing the rest. Store cooled bars in an airtight container at room temperature.
Recipe Notes
This recipe can be made using an electric mixer, or stirring by hand. Stirring by hand will incorporate less air into the bars, which will make them a little more dense and gooey.  If you'd like them to have a more traditional texture, use a mixer.
For gooey bars, bake until a toothpick inserted in the center comes out damp/wet, but doesn't have batter. For bars that are cooked all the way through, bake until a toothpick comes out with moist crumbs on it. Bars will firm up a little as they cool.
Adapted from King Arthur Flour
Originally posted in April 2011; updated with recipe in June 2018.