My favorite thing to eat when we order at Chipotle is their barbacoa. I love their flavorful shredded beef. I'm thrilled to be able to make it at home, with hardly any work!
Never had barbacoa before? You're missing out, and we can fix that now by making it in your kitchen. The secret ingredient in it is a few chipotle chiles and some adobo sauce, which adds a smoky, slightly spicy flavor to it.
Barbacoa couldn't be easier to make. You can make it in the oven, sure, but it's even easier if you take a beef roast, combine all the ingredients, and toss them together in a slow cooker. Then you can walk away from it for the day!
[This post contains affiliate links. I may make a commission for purchases made through links on this post. As an Amazon Associate, I earn from qualifying purchases.]
If you didn't plan ahead, though, you could even make it in the Instant Pot (affiliate link).
And best of all, this recipe will feed a crowd. You can have a big taco party with this, or feed your small family burrito bowls for a week.
What is Barbacoa? A Brief History
Originally, barbacoa simply meant barbecue, as cooking technique. It's where the English language got the word. When Europeans came to the Americas, they co-opted the word and labeled the practice of roasting meat over fires in holes in the ground barbecue.
That said, barbacoa isn't barbecue. It's a roasted (or steamed) meat, usually beef, goat, or lamb. Per this article from the Spruce Eats, FYI if you travel: in Mexico, it may have been cooked along with organ meats.
Not just abroad, though. When I had Mexican food in Panhandle Texas with my family, I got to try more-authentic barbacoa, which was made from cow cheeks. It has a much softer texture, a velvety mouth-feel thanks to the collagen in it. Not bad if you like that kind of texture. That said, I'm picky and don't like super-soft meat, so it wasn't my favorite. The flavor was great, though.
The US is affluent enough (and squeamish enough) to only use roasts and steaks, instead of including organ meat. And we in the United States are big on beef, and so that's what our (and Chipotle's, and my) barbacoa is made from.
How to Make Barbacoa in the Slow Cooker
I originally came across this recipe on The Gingham Apron. I loved the ingredients - they're all from the pantry! - but they cook their barbacoa in the oven as a roast. I knew I could never do it that way. My roasts all go in the slow cooker, and so that's what I've always done with this recipe.
Making this recipe couldn't be easier. Just toss all the ingredients together in the slow cooker, and cook for 6 hours on high, or 8 hours on low. Then shred the beef.
I recommend using a smaller, 3- or 4-quart slow cooker for this, rather than a 6-quart model. Both work, but the smaller one will keep the beef more moist, while the larger one will be harder to clean.
What kind of beef should you use? Whatever kind of roast you would like. Something that holds up to long cooking, and nothing expensive.
I personally tend to buy London Broil cut beef when it is on a great sale and use it. (Although it will be dry if it's not submerged in liquid, but I always have the shredded meat submerged after cooking.) If nothing is on sale, look for chuck roast, shoulder, or bottom round roast.
What other ingredients do you need? Spices (cumin, oregano, black pepper, onion powder); garlic (jarred minced garlic works fine); and some lime juice (bottled is ok).
The special ingredient is a can of chipotles in adobo sauce. Chipotles are smoked and dried jalapeno peppers. These are then preserved in vinegar-based adobo sauce. There's no substitute for this, as you use both the chipotles and sauce in the dish.
Can I Make Barbacoa in the Instant Pot?
You can absolutely make barbacoa in the Instant Pot (affiliate link)! Just combine all your ingredients and use the meat setting on high.
Be aware, though: your sealing ring will hold on to the flavor of the chipotles (and garlic and onion, too). If you use your Instant Pot for something other than savory cooking (like making rice or yogurt, as I do), purchase a spare pack of extra sealing rings (affiliate link) in different colors to keep the flavors separate. I've found them immensely helpful.
If you have a flat, long piece of meat (like a London Broil cut), I recommend you cut it into chunks before cooking it in the Instant Pot, so it's not folded up or touching the sides of the pot in strange ways.
How to Serve
You can certainly eat your barbacoa in soft tacos. I recommend the smaller corn tortillas over flour ones.
My favorite way is burrito bowls. When I know we have a busy week ahead, I plan for us to have barbacoa burrito bowls for dinner. It takes a little prep work cutting tomatoes and lettuce over the weekend, but it's surprisingly easy to do. And, it feeds us for days.
Serve with:
Beans. Make a pot of beans in another slow cooker; 1 pound dried black beans cooked with 1 teaspoon salt works well for us. Or, have a few cans of beans.
Rice, although I usually skip it.
Tomato and cilantro, perhaps bell peppers or lettuce.
Shredded Mexican blend cheese.
I hope you try this recipe, and enjoy it as much as we do. And, enjoy the leftovers!
Want other easy slow cooker meals? Try Bean and Bacon Soup, Southwestern Bean and Barley Soup, Chicken Enchilada Soup, Baked Beans, or Chicken Chili.
Want to eat other Mexican(ish) foods? Try this super-easy Mexican Soup, Tex-Mex Fajitas, Tres Leches Cake, Mexican Hot Chocolate Cookies, or Aztec Hot Chocolate Ice Cream.
Interested in other recipes? I save and share recipes I like or want to try on my Pinterest page - follow me there! You can also check out my Facebook page for more recipes and helpful tips. I'm also happy to try to help troubleshoot my recipes there.
Have you tried this recipe? Or have a question about it? Rate it or leave a comment below! (PS: rating my recipes helps other people find them, too!)
In the past:
One Year Ago: Apple Cider Donut Cake
Two Years Ago: Brownie Cheesecake
Five Years Ago: Cinnamon Bread
Eight Years Ago: Banana Pancakes
Nine Years Ago: Sourdough Breadsticks
📖 Recipe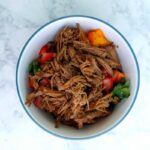 Slow Cooker Barbacoa
Delicious, flavorful barbacoa (Mexican shredded beef), seasoned with only pantry ingredients and made easy in a slow cooker!
Cuisine:
American, Mexican
Keyword:
slow cooker barbacoa
Ingredients
3

pounds

beef roast

(chuck, shoulder, rump roast, or bottom round; though I often use London Broil when it's on sale)

3

chipotles

(from a can of chipotles in adobo sauce)

1

tablespoon

adobo sauce

2

tablespoons

minced garlic

(I always use it from a jar)

2

teaspoons

table salt

2

teaspoons

ground cumin

1

teaspoon

oregano

1

teaspoon

onion powder

(don't have this? add extra garlic, or skip it entirely)

1

teaspoon

ground black pepper

2

tablespoons

lime juice

(bottled is fine)

½

cup

water
Instructions
Place beef roast in a 4-quart (preferred) or 6-quart slow cooker. If you have multiple pieces of beef, try to tuck them down so they're as low as possible.

Top beef with chipotles, adobo sauce, minced garlic, salt, cumin, oregano, onion powder, and black pepper. Pour the lime juice and water over the spices to rinse them down and mix them.

Cover and cook beef for 8 hours on low or 6 hours on high.

Shred beef and stir it into the cooking liquid. Serve in tacos, burrito bowls, or on its own.
Instant Pot Directions
Combine all ingredients in the Instant Pot. If using a long piece of beef (like London Broil), cut into two so that the pieces lay on top of each other.

Place lid and make sure the vent is set to steam, not vent. Select the longest Meat/Stew setting.

Allow to vent naturally, or wait 10 minutes before venting. Shred beef and submerge in the liquid. Serve.
Recipe Notes
Even if your roast is bigger or smaller than 3 pounds, use the same amount of seasonings. 
Store leftovers in their cooking liquid in the fridge. We eat this up to a week later, although you may wish to finish it sooner.
You can make this in an Instant Pot. 
This recipe was adapted from The Gingham Kitchen.
Calorie count is an estimate only. Actual calorie count will depend on the cut of beef selected; refer to your package's nutritional information.