I love baking, but even so, I didn't make this Ricotta Pound Cake assuming that I would share the recipe with you. Rather, as usual, I just had ricotta that I had to use up, so I searched for a recipe for it.
Once I baked this cake, though, I knew I needed to share it with friends. When my friends tried it, they urged me to write about it here.
You know, my friends are right. A cake this soft and moist needs to be shared with everyone.
I love the dense texture and pure, sweet and buttery taste of traditional pound cake. Despite my lack of recipes on this website for it, I would say pound cake done well is my favorite cake.
Well, this one takes the cake. Hahaha.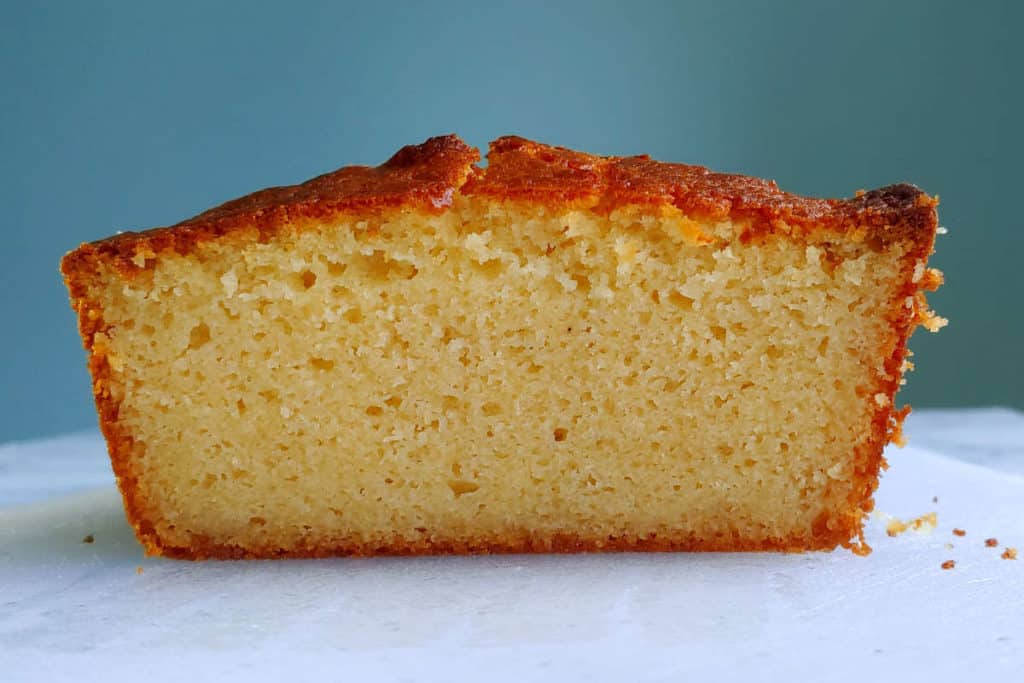 This ricotta pound cake has the dense texture and sweet flavor of traditional pound cake. However, the ricotta cheese adds extra moisture and spring to the cake, softening it and making it less crumbly. You don't taste cheese; the cake tastes richer, while still tasting of sugar and butter.
If anything, I'd say that the ricotta pound cake is easier to make than a normal one. The ricotta keeps the cake moist - a game-changer if you've ever been afraid your pound cake will dry out.
Even my friend Jenn, who doesn't like pound cake, loves this cake. So you, too, should definitely try it.
[This post contains affiliate links. I may make a commission for purchases made through links on this post. As an Amazon Associate, I earn from qualifying purchases.]
Why Ricotta? What is it?
The not-so-secret ingredient in this cake is ricotta cheese. I don't cook much with cheese; we usually only have it around at Christmas when we make lasagna.
So what is ricotta cheese? Traditionally, it's a cheese made from whey leftover from making other cheese. (Hence the name - ricotta means "recooked.") However, nowadays what you find in the store has been made with regular milk. It's possible to make your own ricotta, although I never have. Once the cheese has been made, it's strained to leave behind the curds and reduce the moisture content.
Ricotta that you buy in the grocery store is usually very mild and doesn't taste like much of anything except cream. That's how I can tolerate it in lasagna, and that mildness makes it a nice addition to baked goods.
There's no substitute for ricotta in this pound cake, although if you do find yourself a bit short on it, you can top off your ricotta with milk.
Tips for Making Ricotta Pound Cake
In any case, it's easy to make a ricotta pound cake. It's practically a foolproof recipe. In fact, it takes minimal preparation.
Cream together softened butter, ricotta cheese, and sugar until fluffy. (A few lumps of ricotta are okay, and expected.) Add eggs and vanilla. Then add flour and leavenings. (See? Simple steps!)
Scrape the batter into a greased and floured 9x5 inch loaf pan (affiliate link). (I love my natural aluminum one.)
Note: my pan may actually be a bit oversized. Do not fill the pan more than about ⅔-3/4 full, or it may overflow. Bake extra batter in muffin pans.
"Greased and floured" is important. When I did not flour my loaf pan, the cake stuck. If you don't have cooking spray with flour, I recommend using the butter wrappers from the softened butter to grease the pan. Shake flour around the pan before you make the batter, and you can tap the excess into your measuring cup to use in the cake.
Baking times will vary because your ricotta cheese may have more or less moisture than mine (which was whole-milk Galbani brand); this has to do with the amount of moisture strained from the cheese. The original recipe at Creative Culinary had a much shorter bake time than my cake required. I consistently had to bake this cake for 75 minutes for it to be done. However, it's worth checking early and often. No one wants dry, over-done cake!
Once a toothpick inserted into the center of the cake comes out clean, it's done! Cool it in the pan for at least an hour before turning it out.
Storing and Eating Ricotta Pound Cake
To store, wrap the cake tightly. I prefer to cut it into slices and store in a sealed container. No need to refrigerate, unless your house is warm and/or humid. The cake was best on the day after it was baked, but slices were still springy and delicious on day 5.
I believe pound cakes are excellent for potlucks, and this one is no exception. You could serve with berries on the side, but I truly believe no adornment is necessary.
Because the flavor of pound cake is so pure and mild (just butter, sugar, and vanilla!), I think it's perfect to have with a morning or afternoon cup of coffee. It would also go well with wine at book club.
Need to use up more ricotta without resorting to Italian pasta? Try Whole Wheat Raspberry Ricotta Scones, or use it as filling for something like Paczkis.
Interested in other recipes? I save and share recipes I like or want to try on my Pinterest page - follow me there! You can also check out my Facebook page for more recipes and helpful tips. I'm also happy to try to help troubleshoot my recipes there.
Have you tried this recipe? Or have a question about it? Rate it or leave a comment below! (PS: rating my recipes helps other people find them, too!)
In the past:
One Year Ago: Fresh Apple Cinnamon Scones, Alton Brown's Fruitcake
Two Years Ago: Apple Pie Bars, Fudge-Topped (Berger-style) Sugar Cookies
Six Years Ago: Banana Muffins
Seven Years Ago: Espresso-Chocolate Chip Shortbread, Apple Galette
Eight Years Ago: How I Like to Make Ribs in the Oven, Chocolate Icebox Pie, Pan de Muerto Bones
Nine Years Ago: Black Forest Cherry Cake
📖 Recipe
Ricotta Pound Cake
A sweet, buttery pound cake, made more springy and moist with ricotta cheese.
Keyword:
ricotta pound cake, vanilla ricotta pound cake
Ingredients
12

tablespoons

unsalted butter

(softened)

1 ½

cups

ricotta cheese

(372 grams) (I used whole milk ricotta)

1 ½

cups

sugar

(288 grams)

3

eggs

2

teaspoons

vanilla extract

1 ½

cups

all-purpose flour

(180 grams; can use cake flour)

2 ½

teaspoons

baking powder

½

teaspoon

table salt
Instructions
Grease and flour a 9x5-inch loaf pan. (Definitely flour this; my cake fell apart when I only greased the pan.) Set aside, and preheat oven to 350F.

With a stand or electric mixer, cream together butter, ricotta, and sugar on medium speed for about 2 minutes, until lighter and relatively smooth. (Small lumps of ricotta are okay.)

Add eggs and vanilla, and mix on low until well combined.

Add flour, baking powder, and salt. (Sift them first if you have issues with lumpy flour.) Stir them in on low, then beat at medium speed for about 30 seconds.

Scrape the batter into the greased and floured pan and level out the batter. (Fill about ⅔-3/4 full; see notes below.) Whack the pan against the counter a few times to help air bubbles escape.

Bake in the center of the oven at 350F. Baking times vary between 45-75 minutes, depending on the moisture content of your ricotta. Start checking at 45 minutes; if you drained your ricotta, it may already be done. If you include the whey that leaks from your ricotta, it will take longer. Mine took 75 minutes to bake. Cover the top with aluminum foil if it browns excessively.

The cake is done when a toothpick inserted into the center comes out clean. The cake will not jiggle. The beautiful center crack will not be wet or gooey in the middle. The top will be a beautiful golden brown.

Cool in the pan for about an hour, then turn out onto a cooling rack. Cut into slices and store in an airtight container at room temperature. The cake is great on the day it was baked, even better the next day, and still delicious (although not quite as moist) 5 days later.
Recipe Notes
This recipe was baked in a natural aluminum loaf pan, which is relatively shiny. Reduce the oven temperature to 325F for glass or dark baking pans, and check for doneness early.
My loaf pan may be slightly oversized. Do not fill the pan more than ⅔-3/4 full, or batter may overflow as it bakes. Bake extra batter in greased and floured muffin cups; begin checking at 15 minutes for doneness.
There is no substitute for the ricotta in this recipe. Part-skim ricotta may be okay, but I haven't tried it. Your baking time will vary a bit depending on the moisture content of your ricotta. Check early.
If you run out of ricotta, you may top it off with milk. (This worked in my cake.)
This recipe was adapted from Creative Culinary, who adapted it from the cookbook Dolce Italiano: Desserts from the Babbo Kitchen. 
Calorie count is an estimate only.
Updated 2/3/2020
[Updated 2/3/2020]