I got a new candy recipe, just in time for candy-making season! This delicious homemade peanut butter fudge is fantastically satisfying and perfect for the holidays!
In the past few years, I've really enjoyed collecting family holiday recipes. I haven't written about some of them because I'm still working on getting them perfect. This recipe, however, was perfect on the first try. It comes from my friend Lori, whose grandmother would make it every year.
Jump to:
[This post contains affiliate links. I may make a commission for purchases made through links on this post. As an Amazon Associate, I earn from qualifying purchases.]
What Is Fudge?
I've always thought of "fudge" as being synonymous with chocolate fudge, but that's simply not true. Simply, fudge is a creamy yet dense candy made from a sugar syrup cooked to the soft ball stage of 234-240 Fahrenheit, and then beaten to create a smooth consistency. Chocolate is the predominant flavor here in the United States, but it certain doesn't have to be.
Fudge originated in the US sometime during the late 1800s, according to Wikipedia. It may have come into being like most things - through happy accident - when someone fudged up a caramel or fondant recipe and ended up with a new confection.
Homemade fudge is a little old-fashioned - in the best kind of way! My own grandma and great-grandma had candy recipes on index cards, and I'm sure that some of yours did too. So I was thrilled when my friend Lori offered up her grandma's Peanut Butter Fudge recipe to me.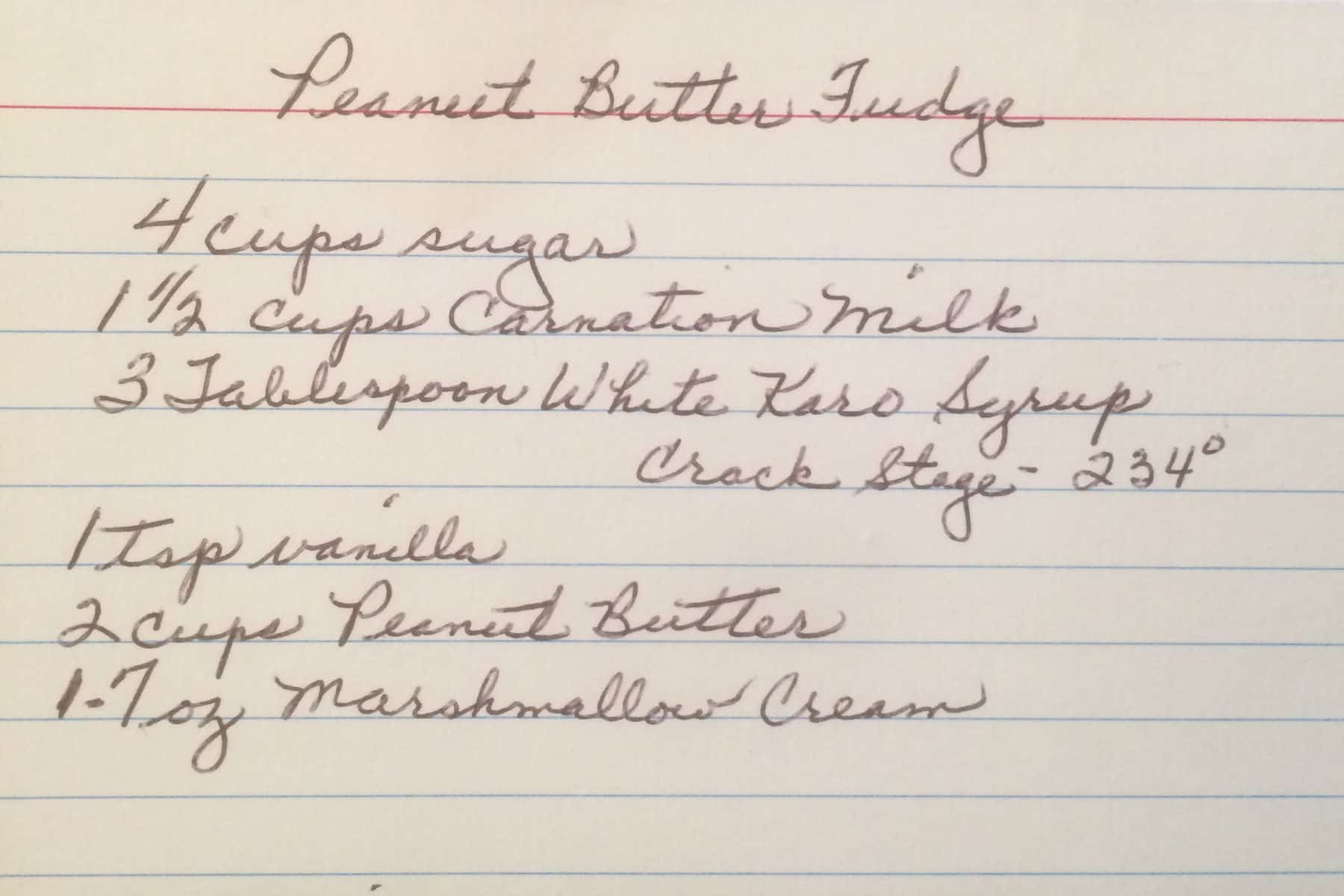 Just look at that beautiful handwriting! I certainly can't write like that.
When our grandmothers had recipes on cards, they likely knew what they were doing already and didn't want or need to write out the details. It makes it much harder for the rest of us reading those cards today, especially if we don't make candy often!
Traditional fudge uses a sugar-milk syrup cooked to 234-240. It's cooled, untouched, to 110F, at which point you beat it with a wooden spoon until your arm falls off or your wooden spoon breaks. (This is only half a joke. It's difficult and tiring to beat it until creamy, and I've broken a wooden spoon trying to do it.)
Luckily, recipes were developed in the mid-20th century that use more convenient ingredients like evaporated milk and marshmallows. This makes candy-making much easier, and much more successful!
Ingredients
Ingredients for this peanut butter fudge are simple. Just sugar, corn syrup, evaporated milk, vanilla, marshmallows, and peanut butter!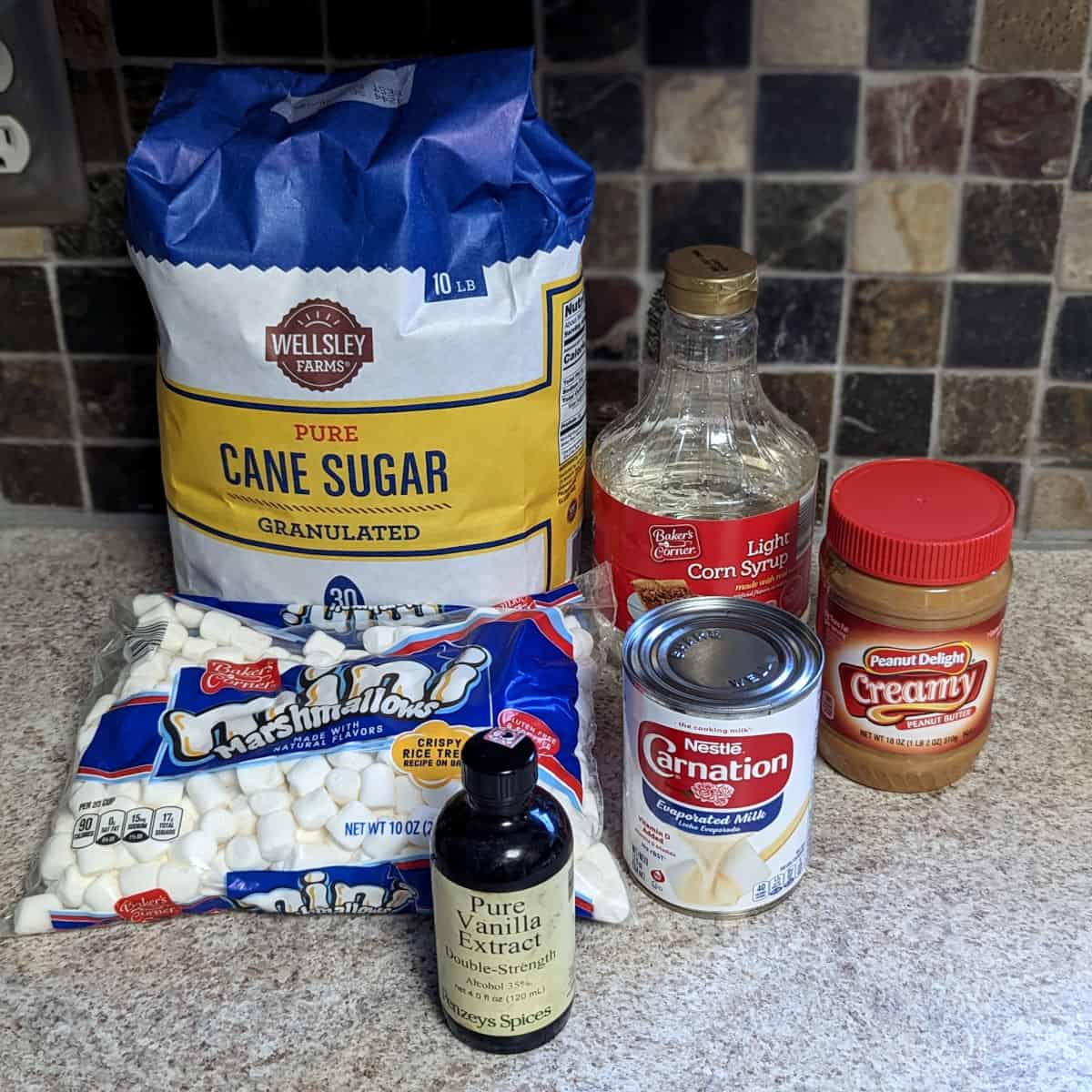 Corn syrup helps stabilize the syrup as you make it. It prevents the sugar from crystalizing too much, and improves the texture.
Evaporated milk is simply milk that has been cooked down. It is unsweetened, and NOT the same as sweetened condensed milk, which won't work in this recipe!
Peanut butter has to be the conventional, shelf-stable stuff here. Don't use natural stuff with no sugar or oil added, as it won't have the right consistency.
Marshmallows dissolve into the hot syrup. They're already whipped and full of air, which helps make your fudge foamy and not too dense. Having to stir them to melt them improves the texture of the candy and turns it from syrup into fudge. It also helps set the fudge as it cools.
Equipment
You need a candy thermometer (affiliate link) and a good pot to make this recipe.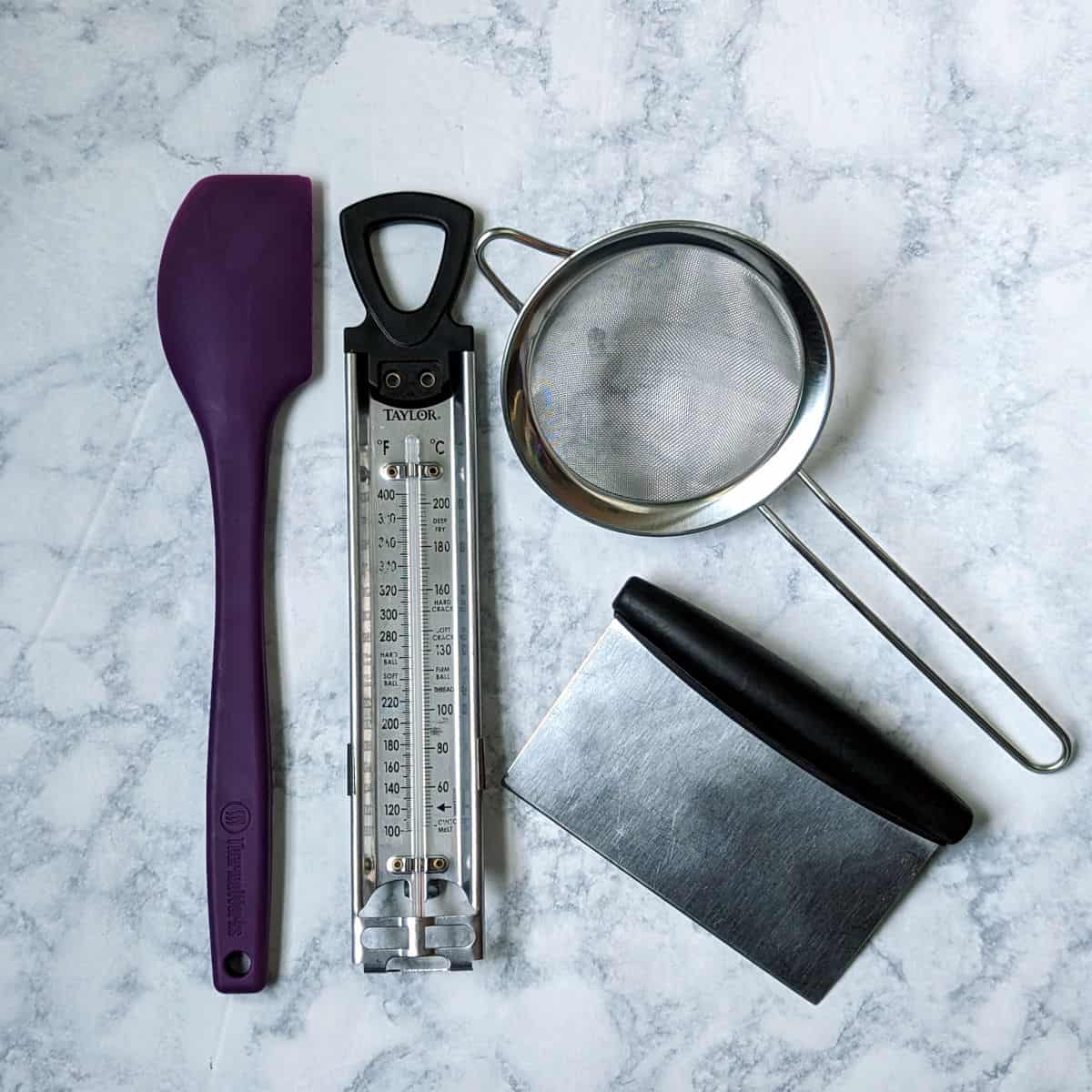 Candy Thermometer: You need a candy thermometer (affiliate link) to ensure you cook the syrup to the right temperature. I like to use a paddle one (as linked to above) as it rests safely on the bottom of the pan without the bulb touching the bottom. You can also use a probe thermometer (affiliate link), preferably clipped to the side of the pan. I don't have the patience to test candy syrup the old-fashioned way, by dropping it into a cup of water.
Sturdy-Bottomed Pot: Thin pots will have hot spots that will spoil the syrup. Use something with a heavy bottom. I also do not recommend non-stick as I tend to scratch it up.
Pan and parchment paper: You can use whatever pan, whatever shape you want. I use a 9x13-inch pan (affiliate link). I recommend you line it with parchment paper so that you can lift the fudge from the pan easily for cutting, rather than greasing or buttering the pan. I don't mind cutting bar cookies in a pan, but fudge is easier when it's lifted out.
Bench Scraper: I prefer a bench scraper (affiliate link) to cut most things cleanly and evenly. A butter knife also works, just not as well.
Instructions
Start by getting everything ready. Grease a 9x13-inch pan (affiliate link) or line it with parchment. Get your other ingredients ready - namely, measure out your miniature marshmallows, unless you're using marshmallow creme. Measure out your peanut butter, unless you plan to scrape every last bit from a full jar.
Next, combine your sugar, evaporated milk, and corn syrup in a large, heavy-bottomed pot. Cook on medium to medium-high heat, stirring and scraping the bottom occasionally, until the syrup comes to a boil.
When the mixture begins to boil, stop stirring it. Insert a candy thermometer (affiliate link).
Do not stir while the mixture boils. Cook until the temperature reaches 234F (or soft-ball stage), then immediately remove from heat.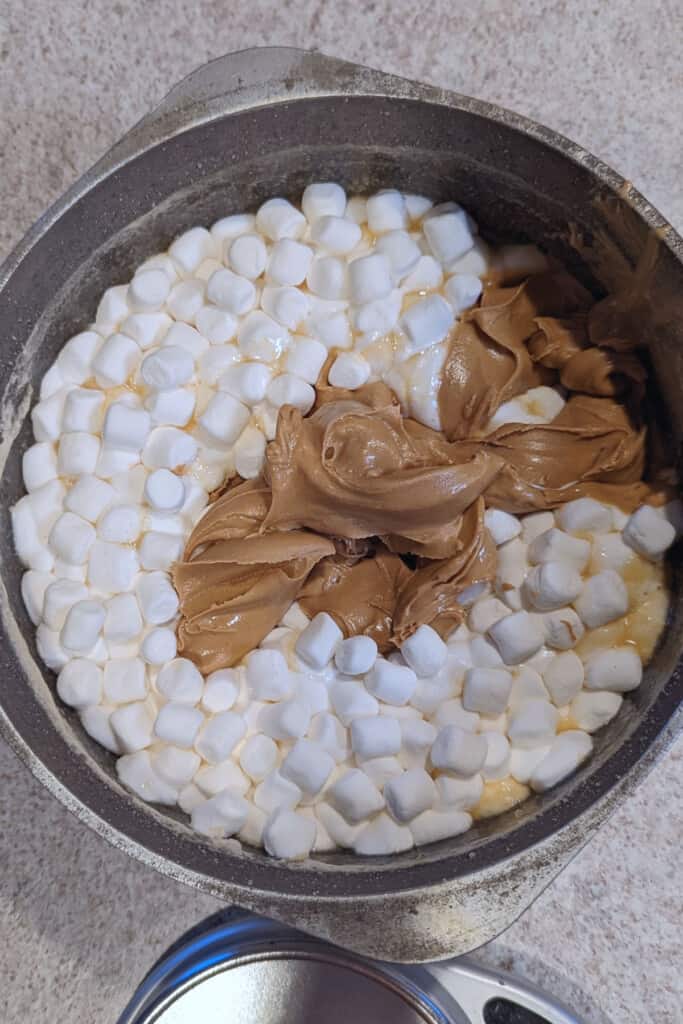 Add the mini marshmallows or marshmallow creme, peanut butter, and vanilla to the pot.
Use a clean rubber spatula to stir, scraping the bottom, until the peanut butter and marshmallows are dissolved and the mixture is smooth. This is almost, but not quite there.
Once there's just 2-3 miniature marshmallows left, scrape the fudge into your prepared pan. Let it set for a few hours before cutting. Cover it with plastic wrap if you're leaving it overnight.
Serving and Storage
Once the fudge is set, cut it into squares and store it in an airtight container. I prefer metal tins lined with waxed or parchment paper, because it's festive.
If you're giving it out as a food gift, cut the fudge into rectangles. Wrap tightly in parchment paper, then wrap in plastic wrap to keep air out.
Fudge ships well, and will keep for a few weeks at room temperature.
Variations
Not into plain peanut butter fudge? Add chocolate chips!
Or, for a really fun variation, top your peanut butter fudge immediately with a batch of my Easy Homemade Chocolate Fudge.
This creamy, dense peanut butter fudge is so satisfying, and really easy to make. I hope you give it a try and enjoy it as much we do in my family, and Lori's family!
Other Great Food Gifts
Interested in other recipes? I save and share recipes I like or want to try on my Pinterest page - follow me there! You can also check out my Facebook page for more recipes and helpful tips. I'm also happy to try to help troubleshoot my recipes there.
Have you tried this recipe? Or have a question about it? Rate it or leave a comment below! (PS: rating my recipes helps other people find them, too!)
📖 Recipe
Peanut Butter Fudge
Just 30 minutes transforms 6 ingredients into a rich Peanut Butter Fudge, perfect to share with family and friends. My friend's grandma's classic recipe.
Keyword:
peanut butter fudge
Ingredients
4

cups

sugar

(800 grams)

1 ½

cups

evaporated milk

(370 grams/1 can; NOT sweetened condensed milk)

3

tablespoons

white corn syrup

(60 grams)

2

cups

peanut butter

(512 grams/ 1 jar, scraped clean)

7

ounces

marshmallow creme

(200 grams, or 4 ½ cups of miniature marshmallows, which I weigh out)

1

teaspoon

vanilla
Instructions
Combine sugar, evaporated milk, and corn syrup in a heavy-bottomed, large pot. Heat over medium to medium-high heat. Stir to mix the liquid, and then stir occasionally, scraping the bottom, while you bring it to a boil. This usually takes me about 10 minutes.

Meanwhile, prepare your other ingredients and your baking pan. Line a 9x13 inch pan (or other pan) with parchment paper, or butter it well. Measure out your marshmallows, if using them instead of marshmallow creme. Measure out your peanut butter if you want a head start of scraping it from the jar.

Once the mixture boils, insert a candy thermometer into the liquid. Be sure the bulb of the thermometer doesn't touch the bottom. Do not stir.

Cook until the syrup reaches 234F (the soft ball stage of candy making). Remove the pot from heat.

Add the peanut butter, marshmallows, and vanilla. (I usually add marshmallows first to give them a head start to dissolve.)

Use a rubber spatula to stir constantly until everything is smooth and mixed well. The mixture thickens and stiffens up quickly once most of the marshmallows are dissolved.

Pour the fudge into the prepared pan. Scrape it into the prepared pan. (I sometimes pour it when I have just 2-3 mini marshmallows remaining, and smooth them out in the pan.)

Let the fudge set at room temperature for at least 2-4 hours. Cover with plastic wrap if leaving overnight before cutting.

Lift the parchment from the pan to remove the fudge. Cut into bars if sharing as gifts, or into squares. Store in an airtight container at room temperature for a few weeks.
Recipe Notes
DO NOT USE SWEETENED CONDENSED MILK. Only use evaporated milk.
Use regular peanut butter with sugar and oil added; natural peanut butter, without oil and sugar, will not work properly.
You can use a 7 ounce jar of marshmallow creme like Lori's grandma did, or you can measure out 7 ounces/200 grams/ 4 ½ cups of miniature marshmallows as I do. Larger marshmallows would need to be cut into tiny pieces.
Be sure to use a candy thermometer to cook the syrup to the right temperature.
Work quickly once the syrup is done. The fudge will set quickly once most of the marshmallows have dissolved. 
Calorie count is an estimate only.
In the past