Layers of moist, rich chocolate cake. Cream cheese in the peanut butter frosting to cut through some of the richness. A peanut butter fudge ganache.
I first made this Chocolate Peanut Butter Cake for Alex's birthday 7 years ago. We had a party, fed it to a ton of people, and still had way too much left over. But it was incredibly delicious.
Since it was so good, so decadent, I decided to bring it out again this year. 2020 is different than 2013, of course. I'm just feeding 3 of us; no need for a cake that feeds 20.
So this year I halved the recipe and converted the cake from 3 layers to 2 layers. So much more manageable!
Some people love peanut butter. I am not usually one of those people. I usually choose a good, pure vanilla, dark chocolate, lemon, or berry. But this cake, man. It is fantastic. I'm not going to wait another 7 years to make it, and I hope you don't, either.
[This post contains affiliate links. I may make a commission for purchases made through links on this post. As an Amazon Associate, I earn from qualifying purchases.]
Jump to Recipe
How to Make the Cake
I feel sorry for Alex when we share a dessert because peanut butter-chocolate is not, and will not ever be, one of my top 3 dessert choices. When it's this cake, though, it might be dessert choice #4.
Although it looks impressive, this cake is rather easy to make. I made the cake batter with only a large bowl and a whisk. Frosting is an easy decorator's buttercream with cream cheese - no cooking required. And ganache only involves melting and stirring. Assembly, likewise, was simple.
When I made this cake 7 years ago, I made a large, 3-layer cake, exactly as Smitten Kitchen had adapted it from Sky High: Irresistable Triple-Layer Cakes. This time around, for just 3 of us, I decided to halve the recipe to convert the dessert into a more reasonable 2-layer cake.
Start off by greasing and flouring two 8-inch or 9-inch cake pans. With a chocolate cake, use cocoa powder instead of flour if possible. Just tap it around the pans, and then you can dump the extra flour or cocoa into your mixing bowl.
Cake batter is super easy. Just mix together your dry ingredients in a large bowl. Use a whisk to add the oil, yogurt, and egg. Oil keeps the cake more moist than butter does; adding these three before the water helps you blend them in completely (so you don't have chunks of egg white in your cake, etc.).
Next, whisk in the water, vinegar, and vanilla. Stir until just combined, then divide between your prepared cake pans and bake. I always stick a toothpick into the center of my cakes; if it comes out clean, your cake is done. Cool your cakes completely before making frosting.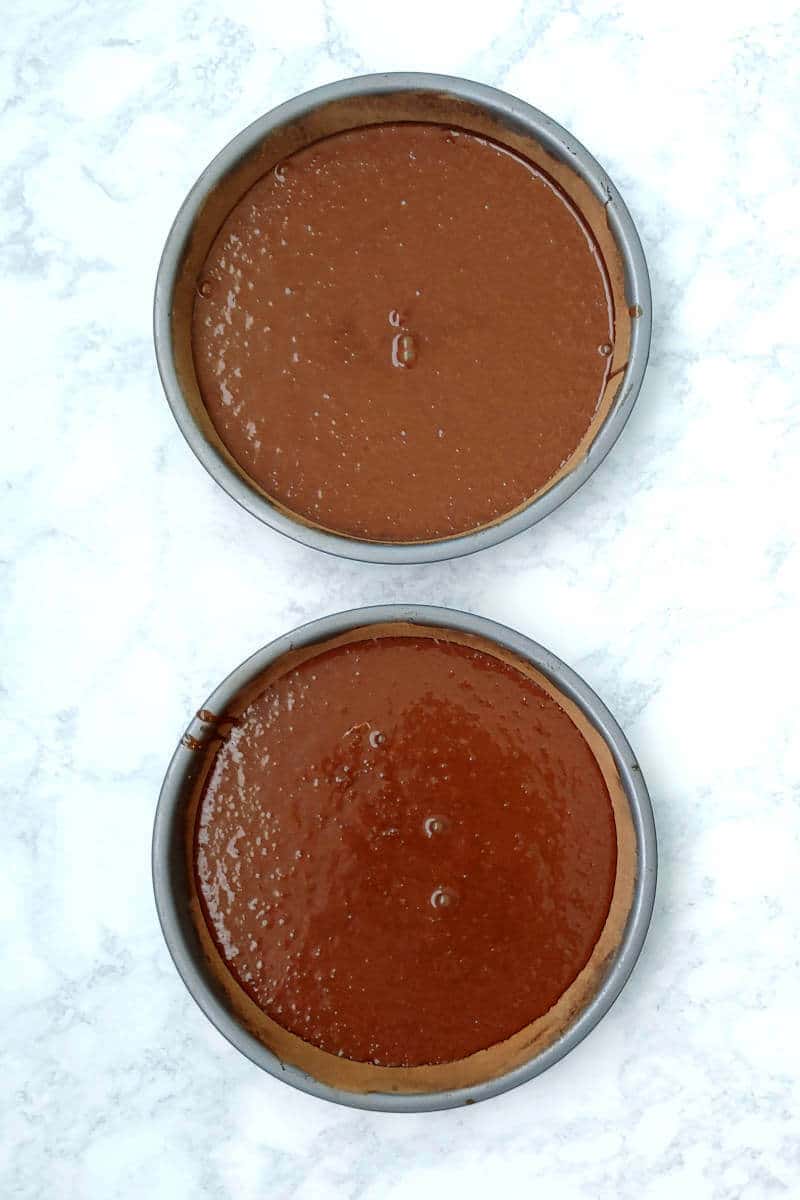 Sometime between getting the cakes into the oven and taking them out, pull out the cream cheese and butter to soften for the frosting. Cream cheese in particular can be lumpy if you try to blend it while it's still cold.
When you're ready to frost the cake, pop the 2 cake layers into the freezer while you make the frosting. Then, just blend together the cream cheese and butter with a hand mixer. Add the powdered sugar, and mix a lot more. Then mix in the peanut butter.
This is just the perfect amount of frosting for me, but frosting lovers may disagree. To make it with a little more frosting, increase the quantities by 50%.
Jump to Recipe
Cake Assembly and Ganache
Take a cake layer from the freezer, and turn it out onto your cake plate. I do this by placing the cake plate directly on the cake pan, and flipping it. I had no problems removing this cake from the pans. If it doesn't come out, try tapping the bottom of the cake pan; the layer may fall out that way. Next, try loosening up the sides; if you have a flexible cake spatula, you can try to get it underneath the edges of the cake.
To keep your cake plate clean, cut strips of wax paper and place them between the edges of your cake and the plate. Any rogue frosting gets on the waxed paper, which you will just pull out and throw away, and your cake will look prettier later.
Spread a small amount of frosting over the layer, almost to the edge. You don't want it too far out; the top layer will squish the frosting down a little to the edge.
Turn out your second cake layer onto a second plate, then place it on your bottom layer.
You've two options for frosting here - making a crumb coat, or just frosting the whole thing. To make a crumb coat of frosting, use just barely as much frosting as necessary to coat the whole cake. Chocolate cake crumbs will get in the frosting. Freeze the cake for 15-30 minutes to allow the frosting to set, then use the remaining frosting (and a fresh knife) to hide this speckled coat.
We'll top this with chocolate ganache, so I don't worry about a crumb coat very much. Regardless, once you've placed the second layer of cake, start frosting the top of the cake, pushing extra frosting down the sides of the cake. Then frost the sides all the way down to the waxed paper.
You can stop here with your cake-making, but the ganache is really fantastic, so I don't know why you would.
Chill your cake while you make the chocolate ganache. Don't use a very dark chocolate here. You want semisweet, maybe around 50-60% chocolate. It's a rich enough cake that a really dark chocolate will be too much.
Combine the chocolate, peanut butter, corn syrup, and half and half in a saucepan. Melt the chocolate with everything else under low heat. Stir until smooth (although honestly, mine wasn't very smooth). Immediately pour over the chilled cake; the ganache won't pour easily if you let it cool.
Jump to Recipe
Serving and Storing the Cake
Since this cake has cream cheese in the frosting, you should store it, covered, in the fridge. While it's on the cake plate, I usually just press plastic wrap against the sides. Once we have less than half the cake left, I cut it into slices and put it in containers for storage.
The cake itself is incredibly rich and moist. The peanut butter frosting is sweet and peanutty, but the cream cheese tempers it so that it's not tooth-achingly sweet. The ganache gilds the cake. Each component is delicious on its own - I kept sneaking bites while I made this - but they're amazing together.
I would say this cake easily serves 12. I love this amount of cake because it's not overwhelming. Alex and I (and Amelia, when I let her) ate it in just a few days, but it's such a moist cake that it will be good for 4-7 days, wrapped well and stored in the fridge.
This is a very pretty and presentable cake, one that seems much more difficult to make than it actually was. A great use of a few hours in the kitchen! It will delight any peanut butter lover in your life. I can't recommend it highly enough.
Interested in other recipes? I save and share recipes I like or want to try on my Pinterest page - follow me there! You can also check out my Facebook page for more recipes and helpful tips. I'm also happy to try to help troubleshoot my recipes there.
Have you tried this recipe? Or have a question about it? Rate it or leave a comment below! (PS: rating my recipes helps other people find them, too!)
Want other chocolate peanut butter sweets? Try Chocolate Peanut Butter Cheesecake, and these healthy Chocolate Peanut Butter Bites.
In the past:
Three Years Ago: Salmon with Baked Couscous (still a favorite!); Slow Cooker Baked Beans
Four Years Ago: One-Pan Farro with Tomatoes
Six Years Ago: Oatmeal Sandwich Bread; Chocolate Chip Cookie-filled Pretzels
Seven Years Ago: Fresh Blueberry Pie
Ten Years Ago: Chocolate Chip Oatmeal Cookies
📖 Recipe
Chocolate Peanut Butter Cake
Two layers of moist, rich chocolate cake. Cream cheese in the peanut butter frosting cuts through some of the richness. Topped with a peanut butter fudge ganache.
Keyword:
chocolate peanut butter cake
Ingredients
Cake
1

cup

flour

(150 grams)

1 ¼

cups

sugar

(275 grams)

6

tablespoons

cocoa powder

(36 grams)

1

teaspoon

baking soda

½

teaspoon

table salt

½

cup

vegetable oil

(112 grams)

½

cup

yogurt or sour cream

(112 grams)

1

egg

(lightly beaten)

¾

cups

water

(170 grams)

1

tablespoon

white distilled vinegar

½

teaspoon

vanilla
Cream Cheese Peanut Butter Frosting
5

ounces

cream cheese

(⅔ cup, at room temperature)

4

tablespoons

butter

(113 grams, at room temperature)

2 ½

cups

powdered sugar

(300 grams)

⅓

cup

peanut butter

(85 grams)
Chocolate Peanut Butter Ganache
⅔

cup

semisweet chocolate

(113 grams/4 ounces, in pieces)

1 ½

tablespoons

peanut butter

(48 grams)

1

tablespoon

corn syrup

(19.5 grams)

¼

cup

half and half

(55 grams)
Instructions
Cake
Grease two 8- or 9-inch (metal) round cake pans (or use cooking spray). Sprinkle a little flour or cocoa powder in each pan, and tap the pan so that all of the grease has been coated. Set aside.

In a large bowl, mix together flour, sugar, cocoa powder, baking soda, and salt.

Add vegetable oil, yogurt, and egg, and use a whisk to combine.

Whisk in water, vinegar, and vanilla.

Pour batter into prepared cake pans. Bake on the same rack in the middle of your oven, for about 18 minutes at 350F. Check a few minutes early; a toothpick inserted into the center of the cake should come out clean. Let cakes cool completely before assembling the cake.
Cream Cheese Peanut Butter Frosting
Using a hand mixer, beat cream cheese and butter together until well combined.

Add powdered sugar 1 cup at a time, scraping the bottom occasionally. Beat until fluffy, about 3-4 minutes. Add peanut butter and mix until well combined.
Cake Assembly
Freeze the cooled cakes for 30 minutes before assembling the cake. This helps keep the very tender cake together better as you frost it.

Take a cake layer from the freezer. Turn it out onto your cake plate. Take strips of waxed paper (or foil if necessary) and nestle them between the cake and the plate so that they cover your cake plate; this keeps your plate cleaner while you frost it.

Place about ⅔ cup of frosting on the layer and spread to almost, but not quite, the edge. Turn out the second cake layer onto your hand or a cooling rack, then place (or invert, either one) onto the frosted layer.

Two options: place a very thin coat of frosting (a crumb coat) on the top and sides of the cake, then chill the cake for 15 minutes to make frosting the rest of it easier. This will catch and (kind of) seal the crumbs, meaning that a top layer of frosting will be cleaner.

However, you're putting ganache on this cake, so I don't find the crumbs such a big deal. Spread the remaining frosting on the top and sides of the cake, being sure to go all the way to the waxed paper protecting your plate. Chill the cake while you make the ganache.
Chocolate Peanut Butter Ganache
Combine 4 ounces chocolate, 1 ½ tablespoons peanut butter, 1 tablespoon corn syrup, and ¼ cup half and half in a saucepan or on a double burner. Melt over low heat, stirring constantly. Adjust heat if necessary so the chocolate doesn't scorch.

Mix until chocolate melts and ganache is thick and smooth. Pour on chilled cake while ganache is warm.
Recipe Notes
This recipe makes a 2 layer cake, instead of a 3 layer cake as written in 2013. Entire recipe was reduced by half.
Frosting recipe makes just enough frosting to coat a 2-layer 9 inch cake. I'm not a frosting fan; if you are, you may want to increase the frosting quantities (and ganache quantities) by 50%. (Frosting: 7.5 ounces cream cheese, 6 tablespoons butter, 3 ¾ cup powdered sugar, 8 tablespoons peanut butter. Ganache: 1 cup chocolate, 2 tablespoons and 2 teaspoons peanut butter, 1 ½ tablespoons corn syrup, and 6 tablespoons half and half.)
This cake recipe is adapted from Smitten Kitchen, who adapted it from Sky High: Irresistable Triple-Layer Cakes.
Calorie counts are an estimate only.
Recipe originally posted in 2013; revisions in August 2020.
[Originally posted June 24, 2013. Text, photos, and recipe updated August 2020.]