[Edit 2017: Although this was a delicious cake, I think I prefer this Tres Leches Cake instead.]
Cooking during 2013 started off slowly. Alex and I traveled in December and early January, and ate (a little too) well while we did. When we were back, Alex generously cooked dinner for us while I worked late at work a few times since work wasn't stopping without me. After several days without personally cooking anything fun (and trying to eat healthily), my deprived self desperately wanted to bake a cake.
Thus, my first new recipe of 2013 was Tres Leches Cake.
Literally three-milk cake, I've been intrigued by this dessert for a while, but I'd never even eaten it. Of course, it was an episode of Good Eats that gave me the idea of making it - and soon.
The dominant flavor in Tres Leches Cake, aside from milk, is vanilla, which goes into both the cake and the whipped cream which frosts it. (It probably helps that my vanilla is extra-strength!) The cake itself takes 5 eggs, which provides structure for the cake so it can soak up and stand up to the cups of milk (sweetened condensed, evaporated, and half-and-half) that you pour over it.
There are 3 distinct stages to this cake - baking, soaking, and frosting - but overall it was pretty easy to make. Using the stand mixer makes things even easier since you spend a while creaming the butter alone and with sugar, adding each of five eggs separately, and gradually adding flour (which I weighed) to the cake. The batter made for a rather thin cake, which domed up dramatically in the center - I'd try spreading the batter thicker at the edges next time to try to even out the cake. I baked it at 350F (-ish) for about 20 minutes, at which point the cake was definitely done.
After the cake cooled, I poked it all over with a fork. I combined sweetened condensed milk, evaporated milk, and half-and-half, poured the mixture over the cake, covered it tightly with foil, and refrigerated the cake overnight.
The next day, I whipped the cream with sugar and vanilla on medium until stiff peaks formed. I frosted the cake and refrigerated it until we were ready to eat some.
Dessert time! I was slightly dismayed at how a little of the liquid drained from the cake in the pan, but the amount of seepage stayed pretty consistent over the week that we ate the cake. I expected the liquid in the cake to be thicker, for some reason - I don't know why I would expect it thicker than when I poured the milk over the cake. The cake kept it shape very well. The cake was moist and juicy, but was not mushy or soggy, for which I was thankful. It was very sweet, milky, and vanilla-y.
I wasn't sure about the cake when I ate my first piece, but it grew on me over the week. If I make it again, I might cut back on the amount of half-and-half since there was slightly too much liquid for the cake. This wasn't my favorite dessert ever, but it was nice for a change. I can see making it again someday.
Like this recipe or have a question? Rate it or leave a comment below!
In the past:
One Year Ago: Slow Cooker Applesauce, Lemon Sugar Crunch Buns
Three Years Ago: Rich and Thick Drinking Chocolate
📖 Recipe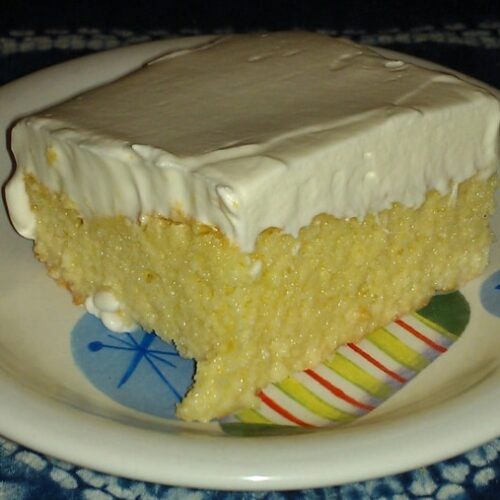 Alton Brown's Tres Leches Cake
This delicious Tres Leches Cake is a sponge cake soaked in a sweet 3-milk mixture.
Ingredients
6 ¾

ounces

cake flour

1

teaspoon

baking powder

¼

teaspoon

table salt

4

ounces

butter

room temperature

8

ounces

sugar

5

eggs

1 ½

teaspoons

vanilla extract
For the glaze:
12

ounces

evaporated milk

1 can

14

ounces

sweetened condensed milk

1 can

1

cup

half-and-half
For the topping:
2

cups

heavy cream

8

ounces

sugar

1

teaspoon

vanilla extract
Instructions
Whisk together the cake flour, baking powder and salt in a medium mixing bowl and set aside.

Beat butter using an electric mixer until fluffy, about 1 minute. Turn the speed down to low and add the sugar gradually, stopping to scrape down the sides and bottom. Add eggs 1 at a time and mix until just combined. Spread into a greased and floured 9x13-inch pan and spread out; the batter will be thin.

Bake at 350F for 20-25 minutes, until cake is lightly golden.

Place cake pan on a cooling rack and cool for 30 minutes. Poke holes all over the cake with a fork and let cool the rest of the way.

Mix together evaporated milk, sweetened condensed milk, and half-and-half, preferably in a giant measuring cup that you can pour from. Pour the glaze over the cake. Refrigerate cake overnight.
Topping and serving
Combine heavy cream, sugar, and vanilla in the bowl of a stand mixer. (You can also do this with a handheld electric mixer.) Use the whisk attachment on low until stiff peaks form, then whisk on medium speed until thick. Spread over cake and chill until ready to serve. Keep leftovers refrigerated.
Recipe Notes
Adapted from Alton Brown/Food Network