Today I'm writing about my favorite new healthy breakfast. I stumbled upon this combination of steel-cut oats, walnuts, and pear by accident, but I honestly can't get enough of it now. Some days I wake up craving it.
I've loved steel-cut oats since I first tried them. Alex got them as a breakfast side at an Irish restaurant in Boston, and I snuck a bite. I adored the chewiness of them - so much better than the mush I'd been considering oatmeal all my life.
I've eaten them ever since, for the past 10+ years. The only downside is that they take a full 20-30 minutes to cook, compared to 5 for old-fashioned rolled oats.
When I lived in St. Louis, I had figured out exactly how to cook steel-cut oats on the stove, down to the minute, without attending them in the mornings, so I could have it cook while I got ready for work. I haven't had time to make them often since having Amelia; I usually just microwave a bowl of old-fashioned oats each morning.
I recently had a throat sore enough that I had trouble swallowing, so I decided a hot, creamy bowl of steel-cut oats would be exactly the comfort food I needed. I added milk to the cooking water, tossed in some walnuts, and added pear (because I don't like apple in my oatmeal).
Thus, this recipe was born. The oats feel decadent from being cooked with nuts and fruit and milk. They're creamy and satisfying, sweet yet hearty, warm and soothing.
I adore it, even the leftovers. I hope you'll try it!
[This post contains affiliate links. I may make a commission for purchases made through links on this post.]
What Are Steel-Cut Oats? An Oat Primer
Steel-cut oats have been cut into 2 or 3 pieces, then left whole. These round little grains have a chewy texture, and take 20-30 minutes to cook. When oats are processed further and rolled flat, they become rolled oats, like what we frequently see in canisters in the grocery store.
That's the main difference between steel-cut and any other kinds of oats. Rolled oats, since they've been flattened out, are quicker to cook. Old-fashioned rolled oats take about 5 minutes to cook on the stove; quick oats, which are chopped into smaller pieces, only take 1 minute. Instant oats are chopped even further.
Steel-cut oats are lower on the glycemic index than other styles of oats since they are not flattened out. Since they're not flattened, steel-cut oats are not ideal for baking (unless they're cooked first). Rolled old-fashioned oats are good when you want a chewy, oaty texture in baked goods; quick oats are nice when you don't want as much texture.
All oats are whole grains; it's just a matter of how flattened they are. I love the texture of steel-cut oats (or Irish oats, as I've also seen them labeled) for breakfast. Old-fashioned rolled oats have a decent texture as a porridge, but I find the mushy texture of quick oats intolerable. I buy packets of instant oatmeal only when I'm traveling, and then I can only eat them because they're heavily sweetened.
Here's a hierarchy of how delicious each type of oats is; it also happens to be a comparison of how long they take to cook:
Steel-cut oats > old-fashioned rolled oats > quick oats > instant oats
If you haven't had a chance to try steel-cut oats, seek them out. Don't get quick-cooking or instant steel-cut oats; the texture is off, just like with packets of instant oatmeal. They won't work the same in this recipe.
You can find steel-cut oats in most grocery stores at this point. They're usually in smaller canisters, next to the larger canisters of rolled oats. Trader Joe's usually has 1 or 2 brands of rolled oats, and they're not too expensive.
If you can't find steel-cut oats next to the rolled oats, you can usually find steel-cut oats from Bob's Red Mill (affiliate link) in the whole grains or specialty grains section of the grocery store. You can also check out the gluten-free aisle, as some varieties are gluten-free.
How to Prepare
In a smallish pot, combine 1 cup steel-cut oats with 2 cups water and 1 cup milk. The milk-water mixture helps prevent scorching on the bottom that might happen if you use all milk.
I've used 2% milk here, but whole or skim milk should work fine. I also expect non-dairy milk to be okay.
Heat on high until the water begins to bubble, stirring occasionally to make sure nothing sticks. Once it bubbles, turn the heat down to medium heat. You want it to continue to bubble gently.
Cook for 10 minutes, continuing to stir occasionally.
Stir in ½ cup of chopped walnuts (or a handful, however many you'd like), and cook for another 5 minutes, stirring it once or twice.
Stir in 1 ½ cups of diced Anjou or Seckel pear. Use an eating pear, not a cooking pear for this; you're warming the fruit through, not really cooking it much. Cook for another 5 minutes, stirring a few extra times as the oats thicken.
Your oats should be done! If not, cook them for a few minutes longer. Add extra milk or water if it seems too thick.
How to Serve Steel-Cut Oats
There are as many ways to serve oats as there are people, I think.
These oats are creamy from stirring and the small amount of milk added to the water. That said, you can add a little extra milk or cream for richness.
The walnuts and pear add enough flavor to the oats. I prefer it with a little strong honey drizzled on top at the table. Brown sugar or maple syrup would also be nice on top.
You could add extra walnuts or pear. Cinnamon might be a nice addition. Add butter, if that's your thing.
I find this toothsome enough to be satisfying on its own, but it would be a nice accompaniment to a bigger breakfast.
Oatmeal doesn't always make good leftovers, but steel-cut oats do. Leftovers of this reheat fine in the microwave, particularly if you splash a little extra water or milk on it to loosen them up. The sugars must intensify as it rests overnight, because leftovers taste lightly sweetened, and I don't add honey to them.
I've made these oats a half a dozen times in the last 6 weeks; they're are just as creamy and satisfying as the first time I tried it. I hope you love this healthy and delicious recipe as much as I do.
If you've made this recipe, leave a comment and rating below to let me know how you've liked it! What did you top your steel-cut oats with?
In the past:
One Year Ago: Slow-Cooker Chicken Enchilada Soup
Two Years Ago: Smoky Cashew Dip (still an all-time favorite!)
Five Years Ago: Fresh Cranberry and Lemon Scones, Whole Wheat Cinnamon Swirl Bread
Six Years Ago: Panettone
Seven Years Ago: Hot Chocolate Mix, Chocolate Almond Graham Bar Mix, Triple Cinnamon Scones
Eight Years Ago: Mexican Hot Chocolate Cookies
Nine Years Ago: Cinnamon Chocolate Meringues
📖 Recipe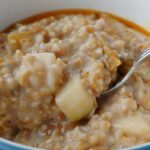 Steel-Cut Oats with Walnuts and Pear
This delicious, healthy recipe takes only 4 ingredients! These creamy steel-cut oats with walnuts and pear are slightly sweet while being hearty and satisfying.
Keyword:
steel-cut oats, steel-cut oats with walnuts and pear
Ingredients
1

cup

steel-cut oats

(160 grams)

2

cups

water

(454 grams)

1

cup

milk

(227 grams) (any dairy or non-dairy milk should work)

½

cup

chopped walnuts

(57 grams/2 ounces)

1 ½

cups

diced pear

(170 grams/6 ounces; about 2 pears) (use an eating apple such as Anjou)

honey, brown sugar, maple syrup, extra walnuts or pear

(to serve)
Instructions
Combine steel-cut oats, water, and milk in a small to medium sized saucepan. Heat over high heat, stirring occasionally, until the water begins to bubble.

Turn heat to medium, maintaining a low bubble. Cook for 10 minutes, stirring occasionally.

Stir in walnuts; cook for another 5 minutes, stirring occasionally.

Stir in pear; cook for another 5 minutes. Stir occasionally; you may need to stir more as the oats thicken to be sure nothing sticks to the bottom.

Add additional liquid if oats don't seem to be cooked through or are getting dry, and cook more if necessary.

Serve with a little honey (my preference), brown sugar, or maple syrup.

Leftovers can be stored in the refrigerator for a few days. Add a splash of milk or water when reheating them.

Recipe Notes
I use 2% milk, but whatever you have should work fine.
Be sure to buy a canister of regular steel-cut oats, not instant or quick-cooking steel-cut oats.
Oats are naturally gluten-free, but are often processed on the same equipment as wheat. Choose certified gluten-free oats if avoiding gluten.