I first made this pie one month after Amelia was born, 7 years ago. It was exciting, finally being in the kitchen again, and writing a subsequent blog post. I'm a bit lucky, though that my first baking project was this delicious Black Bottom Oatmeal Pie.
Oatmeal in pie? Sounds weird, I know, but trust me. It's great.
Even after 7 years, I could remember how much I enjoyed this pie, and it still lives up to my expectations. Crisp, buttery pie crust. Chocolate ganache. And instead of a pecan pie layer, it has a chewy oatmeal cookie-like layer with a hint of spiciness from nutmeg, with a bit less goo than a traditional pecan pie.
So. Good.
Jump to:
[This post contains affiliate links. I may make a commission for purchases made through links on this post. As an Amazon Associate, I earn from qualifying purchases.]
Memories from 2015
Although I'm rewriting this post, I don't want to lose the memories that I wrote into this piece:
Our baby is one month old! Recently my life has been changing diapers, nursing, and napping. It's a good thing that I stocked my freezer with meals and all the bread I made last December, because we've gone through just about all of it. I don't mind emptying my freezer or taking care of Amelia at all, but it does mean that I haven't had two hands available to do cooking or typing/blogging. As baby gets bigger, spending time in the kitchen or on the computer should become a little easier, and I can keep updating this blog!
I was super excited to finally do some baking. And I loved this Black Bottom Oatmeal Pie.
The only thing I made before last Saturday was baked oatmeal. It was very quick and easy to make in the evenings, and I only made it to streamline my breakfast during the week. My friend Jen reminded me that last Saturday was Pi Day. Was I going to make a special pie for a super-special Pi Day, since it was actually 3/14/15, the extended digits of Pi? It was a shame not to make a pie, since Alex would be home all day and able to watch baby. I hadn't planned to make anything elaborate, but then I saw that Smitten Kitchen had posted the recipe for a Black Bottom Oatmeal Pie, and although it was more complicated than the super-easy Key Lime Pie I made recently, I couldn't resist it.
This pie wasn't too difficult overall, but it was a little more involved than I probably should have tackled with a 4-week old at home.
Ingredient Notes
A black-bottom pie (or cookie, or cupcake, or anything) is a pie with a layer of chocolate on the bottom - above the crust, in the case of pie.
I'm sure there are many ways to accomplish this, but this recipe makes a quick and simple ganache that is spread along the bottom crust.
Speaking of the crust, definitely use butter for the best flavor. Shortening or margarine is fine if you want things a bit flakier, but you'll be sacrificing flavor.
You can use old-fashioned rolled oats or quick oats; either are fine. Don't use instant oats or steel cut oats, though. Instant will be mushy, and steel cut will be tough and won't cook properly.
Why oatmeal? I'm sure there's a nice long explanation. Simply though, pecans aren't the star of pecan pie, really - the corn syrupy goo is. Toasty oats fill in perfectly fine for pecans, making the pie both cheaper, and nut-free!
Making Pie Crust
You can certainly use a prebought store pie crust for this pie if desired. However, a homemade, all-butter crust will give so much more flavor and crunch that it's a shame to skip it. I did default to decent-quality store-bought crusts (not your cheap store-brands!) when Amelia was a baby, but making your own was worth the effort.
I prefer using a food processor to make my pie crusts. Mine is a Breville food processor (affiliate link), but any brand should do. I don't like washing it by hand, but it's still faster and easier than using a pastry cutter (affiliate link) or knives to cut cold butter into flour.
Mix together your dry ingredients briefly. Cut your butter into smallish cubes. Pulse to combine; the butter should mostly be irregular clumps, with the largest ones no bigger than peas.
Drizzle in the water slowly, and pulse to combine. Your mixture should look like moist crumbles now. Remove the blade and use your hands to mold it into a ball.
Place the ball on plastic wrap or waxed paper, and flatten it out into an even disc. Wrap it and chill it in the freezer for 1 hour. This allows the butter to chill again to keep its shape better, and also allows the flour to hydrate thoroughly.
Take your chilled dough and roll it out on a lightly floured surface. It will be tough going at first, but will get easier as the butter warms back up. Roll it in all directions; lift it off the surface to be sure it's not sticking. (A bench scraper (affiliate link) is helpful to loosen it if it does stick.)
You want the dough to become a 12-inch circle, or a circle that's about 2 inches wider than your pie dish. (That's 1 inch wider on each side.) Just place your pie dish over the dough to check where it needs more rolling.
Try to keep it even, but don't worry too much. Take dough from sides where you have extra, irregular shapes, and patch it in where you have gaps.
Drape the dough over your rolling pin, then transfer the pie dough onto the pie dish. Tuck the dough into the edges, but do not stretch the dough as that will cause shrinking. My preferred way is to lift the edges at a 90 degree angle to the bottom of the pan so that I can get the dough straight down to the bottom.
Trim the edges of the dough to make it roughly even. Use these trimmings to fill in any cracks or other spots where there isn't enough pie crust. Tuck the edges of the crust underneath itself along the sides, and then use your fingers (or a fork) to crimp.
Chill the pie crust briefly to firm up the butter, then use a fork to prick the crust liberally to dock it to the pan and keep it from puffing too much. Bake for 10 minutes, then let cool briefly while you prepare the filling.
Making the Pie Filling
Making the filling is much easier than making a crust.
First, reduce your oven temperature and toast the oats. You can skip this if you feel lazy, though, and still end up with a delicious pie.
Meanwhile, melt together the cream and chocolate to make the ganache. I did this in a metal bowl over a pot of barely simmering water. Stir it occasionally, until melted together and smooth. Smoothness is the important part. It will be a little thick and clumpy right after it melts, but not smooth.
You can also melt it together in a microwave safe bowl. Microwave it on high in 15 second bursts, stirring after each one with a rubber spatula. It is easy to overheat it this way, however.
Either way, don't overheat your chocolate, or it will be grainy.
Pour the chocolate ganache over the bottom of the pie crust. Freeze the pie crust briefly while you make the rest of the filling. This helps set the chocolate so it doesn't melt and dissolve into the pie as it bakes. (But, don't freeze it too long, or your dish will shatter when you place it in the oven!)
In a separate bowl, simply whisk together the brown sugar, nutmeg, salt, and melted butter. Add in the corn syrup, vanilla, and vinegar (which balances out some sweetness). Use a whisk to stir in the eggs until the mixture is smooth.
Stir in the slightly cooled oats with a rubber spatula. Pour the filling into the prepared pie crust.
Reduce the oven temperature again. Bake for 55-75 minutes. The pie in these photos was baked for 75 minutes. Pie like this always has a long time range for baking. The pie is done when it is firm to the touch, with a slight bit of give in the center. The top will look dry and dark. If your pie sloshes, or jiggles, or makes waves under the surface when you try to pull it out, the pie is not done and needs to bake longer.
Cool completely, about 2-3 hours, before serving.
Serving and Storage
If you try to serve the pie before it's cool - for instance, after an hour like I did this week - it will be a little extra gooey and runny. Go for it if that's your thing, but realize you won't get the neatest cuts.
I believe that pies with this amount of eggs should be stored in the fridge for optimal food safety. However, I stored mine, covered, at room temperature for 2-3 days, just as I do pecan pie. It may last longer than that, if you don't devour it like we did.
I can't say enough good about this pie. I adore its crisp, buttery crust, rich chocolate, chewy oats, and sweet pecan pie-like goo. It's satisfying and hits all the right notes for me.
Interested in other recipes? I save and share recipes I like or want to try on my Pinterest page - follow me there! You can also check out my Facebook page for more recipes and helpful tips. I'm also happy to try to help troubleshoot my recipes there.
Have you tried this recipe? Or have a question about it? Rate it or leave a comment below! (PS: rating my recipes helps other people find them, too!)
Have you tried this recipe? Or have a question about it? Rate it or leave a comment below! (PS: rating my recipes helps other people find them, too!)
Love chocolate and oats? Check out these recipes!
Other delicious pie recipes:
📖 Recipe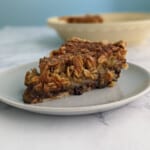 Black Bottom Oatmeal Pie
This delicious black bottom oatmeal pie combines toasty oats in a pecan pie-like filling on top of a rich layer of chocolate ganache.
Ingredients
Pie Crust
1 ¼

cup

flour

(150 grams)

1 ½

teaspoons

sugar

(8 grams)

½

teaspoon

table salt

(~4 grams)

8

tablespoons

cold butter

(112 grams; don't use margarine; it's not as good here)

¼

cup

cold water

(~60 grams)
Pie Filling
1 ½

cups

rolled oats

(120 grams)

¼

cup

heavy cream

(~60 grams; can substitute 3 tablespoons milk + 1 tablespoon butter)

⅔

cup

chocolate chips or bittersweet chocolate

(110 grams/4 ounces)

¾

cup

brown sugar

(150 grams)

¼

teaspoon

ground nutmeg

½

teaspoon

table salt

(4 grams)

5

tablespoons

butter

(70 grams; melted)

1

cup

corn syrup

(312 grams; light or dark)

1

teaspoon

vanilla

(5 grams)

2

teaspoons

vinegar

(10 grams; white distilled or apple cider vinegar)

4

eggs

(~200 grams without shell)
Instructions
Pie Crust
Place flour, sugar, and salt in food processor; pulse to combine. Add butter and pulse until the butter is in little pieces, no larger than peas.

With the machine running, drizzle in water and pulse until clumps form.

Use your hands to knead the dough together into a ball. Flatten into a disc and wrap in plastic wrap. Refrigerate one hour.

Preheat your oven to 400F. Remove dough from fridge. On a lightly floured surface, roll out into a 12 inch circle, or at least 1 inch wider on each side than your pie dish is. You need this overhang to form the edge.

Use your rolling pin to transfer the dough into regular pie dish or pan. Drape dough into the pan without stretching the dough. At the sides of the pan, angle the dough into the bottom edges at a 90 degree angle to get it to lay without stretching.

Trim if necessary to make the dough a relatively even circle that extends past the sides of your pan. Use trimmings to patch in any cracks along the sides. Tuck the edges of the pie crust dough underneath themselves and crimp to seal. (This is important as it gives you height you need for the pie filling.)

Parbake the crust. It's recommended to chill your pie crust for 10 minutes to firm up the butter and keep the crust from becoming misshapen. Prick bottom of crust liberally and bake at 400F for about 10 minutes. Let cool while you make the filling.
Pie Filling
Reduce oven temperature to 350F. Place oats on a baking sheet and toast in the oven for 10-12 minutes, stirring occasionally to make sure they don't burn. Let cool briefly. (I've forgotten to do toast the oatmeal, and it still turns out ok.)

Meanwhile, melt together cream and chocolate. In a heat-safe bowl over a pot of water on medium heat, stir the cream and milk together until smooth. (See notes for microwave instructions.) Spread evenly over bottom of cooled pie crust. Place pie crust with ganache in freezer while you prepare the oat filling.

Reduce oven temperature to 325F. In a large bowl, whisk together brown sugar, nutmeg, salt, and melted butter. Add corn syrup, vanilla, and vinegar. Add eggs, and whisk again to combine.

Stir in the oats with a rubber spatula. Place prepared, slightly chilled chocolate-covered crust on a baking sheet, and pour the oat filling into it.

Bake at 325F for 55-75 minutes; mine took about 65 the first time and 75 the second time. Pie will look dark, and dry on top. If the filling sloshes/jiggles/makes waves underneath the surface when you pull it out, the pie is not done and needs more time. The center will be slightly firm to the touch but have a little give when done.

Cool completely (2-3 hours) before serving.
Recipe Notes
A food processor makes making a pie crust much, much easier. You can also use a pastry cutter or two knives criss-crossed to cut in the butter, which you should cut into small pieces before adding. Use a fork to toss the crumbles and water together, then form dough into a ball and proceed with the recipe.
I've forgotten to toast the oats; still delicious.
To microwave the ganache, place cream and chocolate in a microwave-safe bowl. Microwave in 15 second increments on high, stirring after each increment. Repeat until the ganache is smooth. The chocolate will be clumpy if not heated enough, but DO NOT OVERHEAT or your ganache will become grainy. Mine did this once; I added extra cream to compensate, although it didn't really help smooth it. However, you couldn't notice the graininess in the final pie.
Adapted slightly from Smitten Kitchen
Recipes from the past: