One Saturday morning a few years ago, I asked Amelia what kind of scones we should make. "Chocolate chip!" she exclaimed, as she still usually does. Thus began my Chocolate Chip Cookie Scone experiment.
First I tried making a cream scone in the style of the Sprinkle Scones that I made, by substituting in chocolate chips and brown sugar and keeping a hefty dose of vanilla extract. This was delicious, and kind of close to what I wanted, but it wasn't quite there.
It needed butter instead of cream. I added in some ground oats just because I had some; they went well with the brown sugar and made the scones feel more breakfasty. Oats also keep the scones tender. Getting the right amount of oats in the scones, though, took some trial and error.
I'm not a fan of glaze on scones, but I am a huge fan of sugar toppings. Turbinado crystals gave too much of a crunchy contrast for our tastes, but adding a thick layer of brown sugar was perfect.
Let me tell you, these Chocolate Chip Cookie Scones are sweet, delicious little breakfast treats that secretly nourish your body while brown sugar, vanilla, and chocolate nourish your soul.
[This post contains affiliate links. I may make a commission for purchases made through links on this post. As an Amazon Associate, I earn from qualifying purchases.]
Tips for Making These (and Any Other) Scones
Scones are a lot like biscuits, although they're not identical. Perhaps scones should be crumbly, and biscuits flaky. Perhaps scones have eggs whereas biscuits don't. (PS: this recipe doesn't, but they're definitely scones.)
I tend to think of biscuits as savory, whereas scones are sweeter and richer. In the US, anyway - it may be different elsewhere. (See Food52's breakdown of the scone and biscuit differences, if you'd like.) In any case, I like sweets, and so mainly, I make scones.
For this recipe, start by grinding 2 cups oats into 1 ½ cups ground oats, if you haven't already. You want them to be more like flour than like oats. I usually do this in 1-2 batches with my bullet blender (affiliate link), but any kind of food processor should work.
If you don't grind your oats, your scones will flatten and spread out (instead of maintain their shape) because the whole oats don't absorb as much liquid as the finely ground pieces do. If you really don't want to use ground oats or oat flour, use quick-cooking (not instant) rolled oats, and freeze the scones overnight before baking them.
Once you've got ground oats, combine them with all-purpose flour, brown sugar, baking powder, baking soda, and salt. Dark or light brown sugar should both work fine.
Next, use a pastry cutter (affiliate link) (or two knives, criss-crossed) to cut in the cold butter. It's best to cut your butter into cubes before adding it, as it will be difficult to cut in otherwise. Butter needs to be cold to keep your scones from spreading too much.
Once your butter is in floury small pieces (although some chunks are okay), stir in your chocolate chips. I'm partial to Ghirardelli chocolate chips (affiliate link) in these, but use what you've got.
Use a fork to stir in yogurt or buttermilk and the vanilla. Mix just as much as needed to be sure the ingredients are moistened.
Having trouble with the dry ingredients becoming moistened? It's okay! If you just have a little extra dry flour, kneading the dough will fix it. If you seem to have a lot that's dry, you can add a tiny bit more yogurt or buttermilk.
Turn the dough onto a lightly floured surface. Dump any extra dry crumbs on top of the dough. Knead the dough by folding it on itself 6-7 times. (You can do this in the bowl, as I sometimes do.) If your dough is very sticky, you can roll it in a little extra flour before kneading it. The flour will work its way into the scones and help firm the dough.
Divide the dough into 2 balls, and pat into 6-inch discs. Pat extra brown sugar onto the tops, then cut into wedges. (I prefer using my bench scraper (affiliate link), which makes cutting super easy.)
Separate the wedges and place them a few inches apart on a silicone mat (affiliate link) on a baking sheet. (At this point, I bake 8 scones, and freeze the other 8 for a later date.)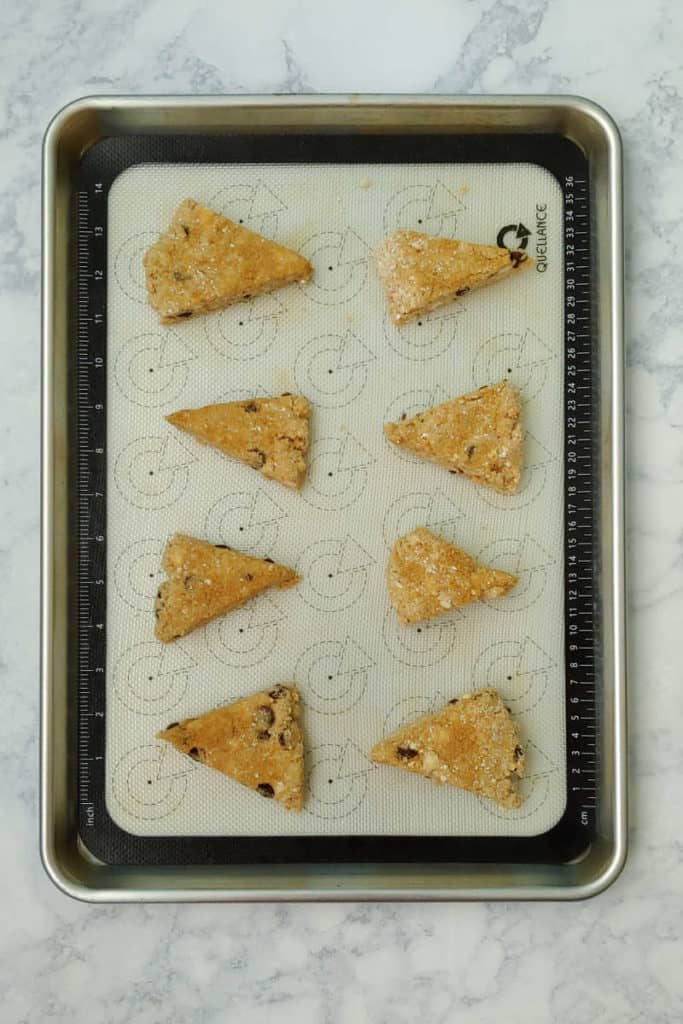 Bake the scones at 375F for 14-20 minutes, until golden brown. Wait only as long as you have to before picking them up to eat them.
How Long Do the Scones Last?
It's best to eat these (and all scones) on the day you bake them. However, since these scones are very cookie-like, they're still good a few days later.
For my family of 3, I usually bake half of these and freeze the other half before baking them. Then I seal them up in a labeled freezer bag to bake another day. Just add 2-3 minutes onto your baking time, with no thawing or defrosting necessary. Frozen scone dough will last a couple of days in the open air (in my freezer, which isn't harsh - YMMV), and a couple of months in a well-sealed freezer bag.
Serve these scones warm. Since they're small and filled with oats, they're relatively low-calorie (for scones). So go ahead, eat the extra one if you want to.
I love the nuttiness and heartiness that the ground oats give the scones. Since scones don't form gluten, they help keep the scones tender. Brown sugar adds a depth of flavor that isn't always in scones. Extra vanilla gives them a little extra oomph.
I really love these chocolate chip cookie scones - sweet yet breakfasty. I hope you love them, too.
Like scones? Check out these other recipes: Cranberry-Oat Pecan Scones, Double Chocolate Scones, Sprinkle Scones, Fresh Apple Cinnamon Scones, Apple and Pear Scones, Strawberry and Cream Scones, and Triple Cinnamon Scones.
Interested in other recipes? I save and share recipes I like or want to try on my Pinterest page - follow me there! You can also check out my Facebook page for more recipes and helpful tips. I'm also happy to try to help troubleshoot my recipes there.
Have you tried this recipe? Or have a question about it? Rate it or leave a comment below! (PS: rating my recipes helps other people find them, too!)
In the past:
One Year Ago: Homemade English Muffins
Two Years Ago: St. Louis Gooey Butter Cake
Five Years Ago: Key Lime Pie, Vanilla Sugar Cookies
Six Years Ago: Almond Meal Pancakes, Fried Cornbread
Eight Years Ago: Kung Pao Sauce recipe review, Heavenly Chocolate Cake Roll review
Nine Years Ago: Martha Stewart Popovers, Vanilla Bean Pudding review
Ten Years Ago: Fudgy Butterscotch Bars
📖 Recipe
Chocolate Chip Cookie Scones
These delicious chocolate chip cookie scones have brown sugar, ground oats, and an extra dose of vanilla for a rich cookie flavor!
Keyword:
chocolate chip cookie scones, chocolate chip scones
Ingredients
2

cups

rolled oats, ground

(160 grams; ground down into 1 ½ cups oat flour)

1 ½

cups

all-purpose flour

(180 grams)

½

cup

brown sugar

(106 grams)

1

tablespoon

baking powder

¾

teaspoon

table salt

½

teaspoon

baking soda

8

tablespoons

butter

(113 grams; cut into small cubes)

½

cup

chocolate chips

(85 grams)

⅔-3/4

cup

yogurt or buttermilk

(150-170 grams)

1 ½

tablespoons

vanilla

(22 grams)
Topping
3

tablespoons

brown sugar

(45 grams)
Instructions
Grind your rolled oats using a bullet blender or food processor, if you haven't already. (See notes for instructions if you don't want to grind your oats.)

Mix together flour, ground oats, brown sugar, baking powder, salt, and baking soda.

Cut your stick of butter into small cubes, then dump it into the flour mixture. Use a pastry cutter or two knives criss-crossed to cut the butter into the flour into small pieces. Some can be small, and some can be large. Stir in chocolate chips.

Use a fork to mix in the yogurt (start with ⅔ cup) and vanilla. Mix only as much as needed for ingredients to be moistened. A little leftover dry mixture is fine and even good, but add a little more yogurt if necessary.

Divide the dough into 2 balls and turn out onto a lightly floured surface. (If the dough is sticky, use extra flour on your work surface.) Knead the dough 6-7 times by folding it in half; this is how I usually work the tiny bit of dry ingredients into the dough.

Pat the dough into discs about 6 inches wide and 1 inch tall. Pat 1 ½ tablespoons of brown sugar onto the top of each disc, then cut each disc into 8 wedges.

Separate the wedges and place on a parchment- or silicone mat-lined baking sheet. Bake at 375F for 14-20 minutes, until golden brown along the edges.
Do-Ahead
To bake on a later date, make the scone dough, and shape, sugar, and cut the scones. Separate the unbaked scones and place on a waxed paper- or parchment-lined plate or baking sheet. Freeze for a few hours, or up to overnight. 


The next morning, bake the frozen scones at 375F for 16-22 minutes, directly from the freezer.


For longer storage, place scones in a freezer-safe bag. Be sure to write instructions and the date on the bag. (I'm sure to so that my husband can make me fresh scones for breakfast on the weekends!) Scones should keep for a month or two in the freezer if sealed well.
Recipe Notes
For ground oats: measure out 2 cups of rolled oats, then grind them in a bullet blender or food processor. 2 cups of rolled oats = 1 ½ cups once ground. 
I have not tried this recipe using oat flour found in grocery stores, but I assume it would work.
To make this recipe without grinding oats, make it with 2 cups of quick-cooking rolled oats. Freeze the unbaked scones overnight before baking. This lets the whole oats absorb liquid and firms up the dough; otherwise, the scones will spread.
If your dough is too sticky, roll it around in the flour on your work surface before kneading; this will work a little extra flour in to firm up the dough. Or, something I haven't tried: make the scones as the recipe says, and try freezing them for 15 minutes before baking.
I've only tested this recipe by weighing ingredients. Volume measurements are approximate.