My husband grew up finding one of those break-apart chocolate oranges in his stocking each year. As is tradition, I now receive one too. Alex eats his, but I'll let you in on a secret - I don't actually eat much packaged candy like this. So instead, I whack it, chop it up, and tuck it into this Chocolate Orange Scones recipe instead.
You can use a milk chocolate or dark chocolate orange; both are delicious in a simple vanilla scone dough. The edges of the scones brown and crisp nicely, contrasting perfectly with the tender, moist interior!
The scones come together quickly, and the unbaked dough freezes extremely well, meaning you can not only have chocolate orange scones now - you can have festive scones in the depths of winter, when you really need cheer!
Jump to: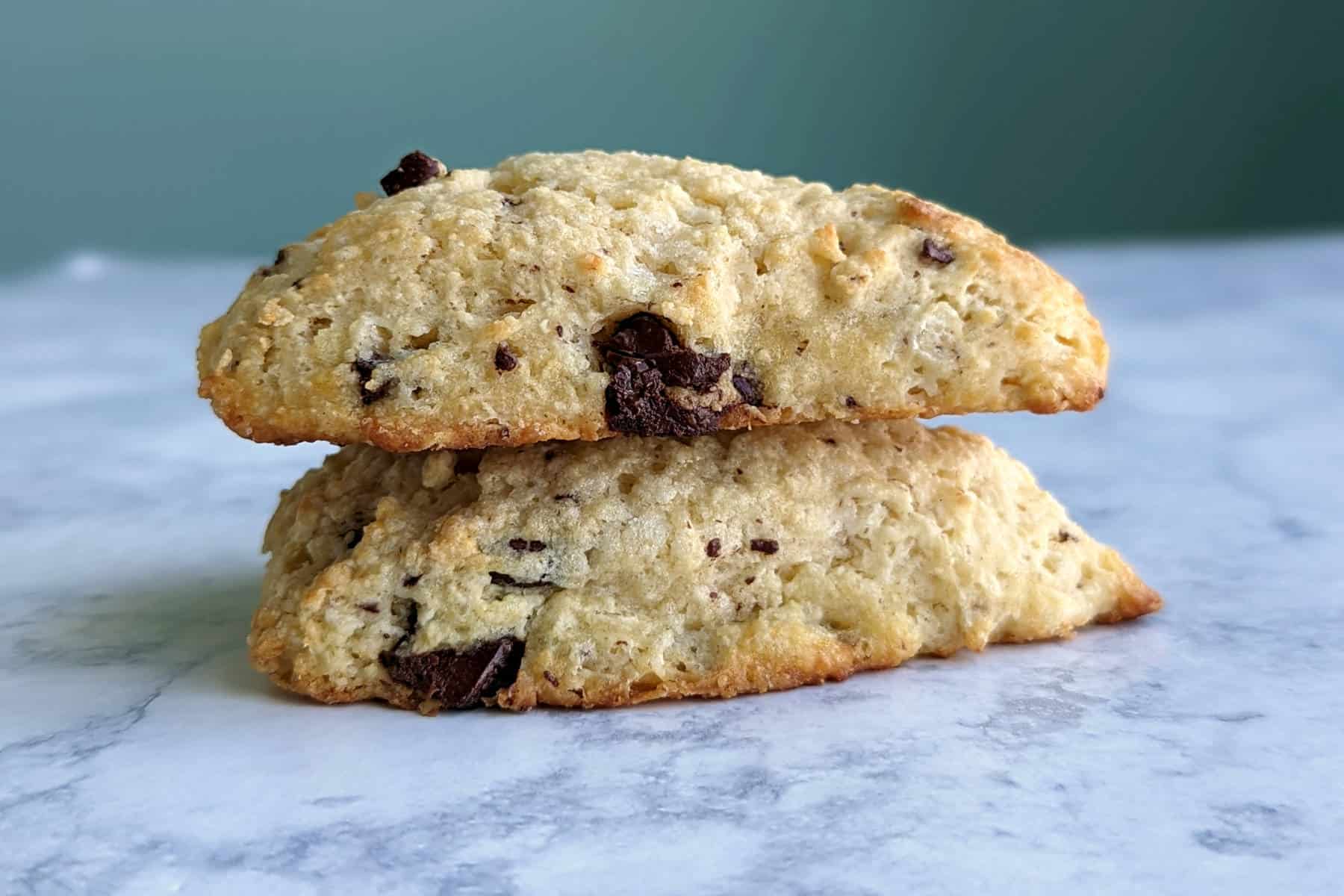 [This post contains affiliate links. I may make a commission for purchases made through links on this post. As an Amazon Associate, I earn from qualifying purchases.]
What are Scones?
In the United States, scones and biscuits are very similar; they're side-by-side in most cookbooks. They're usually made by cutting solid fat (butter or shortening) into flour, mixing it with a liquid (usually milk or cream) to make a dough. The dough is patted out and cut into rounds or triangles, and use baking powder or baking soda to rise during baking.
Bakers tend to have strong opinions on what makes them different. I tend to think of biscuits as savory or neutral, and scones as sweet. Biscuits are more flaky, while scones are more crumbly. I've been working my way, slowly, through Dorie Greenspan's Baking: From My Home to Yours (affiliate link); her scone recipes include egg, whereas her biscuit recipes don't.
I prefer biscuits to be neutral so I can layer on honey or jam. In my opinion, the best scones have add-ins (like chocolate!), and are a pleasure to eat all on their own, with no other adornment. Not to say that you can't eat a biscuit on its own, but it's like comparing sandwich bread to French bread. They're both good, but fill different food niches.
This article from the Kitchn goes into a lot more detail about biscuits versus scones, if more reading is your thing.
How to Make Scones
First, combine your flour, sugar, baking powder, and salt in a big mixing bowl. Use a pastry cutter (affiliate link) or two knives criss-crossed to cut the butter into the flour mixture until it's in very small pieces - all smaller than peas. You can also use your fingertips to do this - just work gently.
Cold butter helps the scones rise optimally, but is hard to work into the flour, even with a good pastry cutter. I usually take my stick of butter, cut it lengthwise into quarters, then dice them into several smaller pieces before I dump them into the flour.
Next, stir in your chopped up chocolate orange. It's easier to add it right now than it is after the dough is made.
Add milk, a lightly beaten egg, and vanilla to the flour mixture. Use a fork to gently toss or push the ingredients together. You don't want to stir too vigorously; you just want everything moistened.
Why a fork instead of a spoon? Dough sticks much more to a spoon, while a fork rakes the flour around through the liquid. You want to handle the dough as little as possible.
Once most of your flour is moistened, you should have just a few crumbs left in the bottom of the bowl. Next, gently knead the dough in the bowl 6-7 times.
To knead: use your hands to gently fold the dough in half over itself. Sprinkle the crumbs from the bottom on top of the dough as you go, so you get that goodness in as well. Don't push on the dough too much; rather, pat it along as you go if you must.
You should be able to lift your dough from the bowl onto a lightly floured surface. (The dough may be rather wet.) Pat it out into a 1-inch tall circle, about 7-8 inches in diameter. Use a knife or a bench scraper (affiliate link) to cut the dough into 8 wedges.
Bake immediately on a silicone mat (affiliate link) or parchment-lined baking sheet.
Substitutions
Both dark chocolate and milk chocolate oranges are great in this. They add the citrus flavor to the scones without you having to zest or juice anything! Terry's Chocolate Orange is perhaps the best-known one, but there's other brands as well. Below is an Aldi-brand one.
If it's summer and you don't have those chocolate oranges, you can use a 3-ounce bar of orange-flavored chocolate like you find in the candy section of the grocery store; I know Aldi has some as well.
I would expect that other flavors of chocolate will also work, if you can find them. I think there's mint chocolates out there. I vaguely remember a whackable raspberry chocolate orange from several years ago; that was my favorite.
If you really can't get flavored chocolate, use chocolate chips and zest about half an orange directly into the flour mixture.
In the scone dough, you can use half-and-half or cream instead of milk; however, your dough may end up a little more dry.
Allergic to eggs? Skip it. You'll need about an extra ¼ cup of milk; add it tablespoon by tablespoon. And consider using half-and-half or cream instead.
Make ahead
Scones are a perfect breakfast treat to make ahead. Simply make and cut the dough. Separate them and place them on a lined baking sheet; lining the baking sheet with parchment, waxed paper, or even plastic wrap helps you remove the frozen dough from the sheet. Place them in the freezer.
Once the dough is frozen to the touch, place in a plastic freezer bag. Be sure to label it with baking instructions! Bake directly from the freezer, without thawing, for an extra 2-3 minutes. Your scones will be a bit golden at the edges, but a toothpick inserted into the center will come out clean.
Serving
My personal preference: scones are best warm, about 5-10 minutes out of the oven. That said, they're also delicious at room temperature. Either way, serve with tea or coffee.
Store leftovers in an airtight container. However, they will soften, and you'll lose the contrast between the crisp exterior and tender interior. Bake only what you will eat that day, and freeze the rest of the dough to bake in the future.
If you do have leftovers that aren't at peak texture, just microwave them for about 8-10 seconds to warm them up.
Interested in other recipes? I save and share recipes I like or want to try on my Pinterest page - follow me there! You can also check out my Facebook page for more recipes and helpful tips. I'm also happy to try to help troubleshoot my recipes there.
Have you tried this recipe? Or have a question about it? Rate it or leave a comment below! (PS: rating my recipes helps other people find them, too!)
Want other delicious scone recipes? Check these out!
📖 Recipe
Chocolate Orange Scones
A delicious vanilla scone studded with pieces of that orange-flavored chocolate that shows up in your Christmas stocking.
Keyword:
chocolate orange scones
Ingredients
2 ½

cups

all-purpose flour

(300 grams)

½

cup

sugar

(100 grams)

1

tablespoon

baking powder

½

teaspoon

table salt

8

tablespoons

butter

(113 grams; cold and diced)

½

cup

chocolate orange or other orange-flavored chocolate

(about 85 grams/3 ounces, or half of a chocolate orange; chopped)

⅔

cup

milk

(150 grams)

1

egg

(lightly beaten)

1

teaspoon

vanilla
Instructions
In a large mixing bowl, stir together the flour, sugar, baking powder, and salt.

Add the cold, diced butter and toss it with the flour mixture. Use a pastry cutter or two knives criss-crossed (or your fingers) to cut the butter into the flour until only some pea-sized lumps remain.

Stir in the chopped chocolate orange.

Add milk, a lightly beaten egg, and vanilla to the flour mixture. Use a fork (not a spoon) to stir the dough, lightly pushing the flour and liquid together. You want to be gentle here.

Once a dough has formed and you only have some crumbs left in the bottom of the bowl, use your hands to gently knead the dough. I do this right in the bowl, although you can use a lightly floured surface instead. Sprinkle the crumbs on top of the dough, then fold the dough in half on top of itself. Pat the dough down gently if you need to. Repeat this process 6 times. You shouldn't have any crumbs left.

Lift the dough from the bowl onto a lightly floured surface. Your dough will likely be pretty wet. Pat it into a 1-inch tall circle, about 7-8 inches in diameter. Sprinkle with a little sugar if desired. Use a bench scraper or knife to cut the circle into 8 scones.

Place the scones apart on a silicone mat- or parchment-lined baking sheet. Bake at 375F for 18-22 minutes. The scones will be golden along the edges, and a toothpick inserted into the middle of one will come out clean as long as it doesn't hit chocolate.

Serve warm or at room temperature. They're best the day that they're baked. Store leftovers in an airtight container, and reheat briefly when serving
Make Ahead
After cutting the scones, place them, separated, on a lined baking sheet. Freeze until solid.

Remove scones from the sheet and store in a freezer bag for up to about a month.

To serve, bake at 375F for 20-24 minutes, directly from the freezer, without thawing.
Recipe Notes
Scone dough should be handled gently. Do not overmix or overknead.
You want your butter cold to give the scones the best rise and texture possible. If your dough is too warm, you can optionally chill your scones for 15 minutes before baking.
You can use milk or dark chocolate in this recipe.
If you need to make this without an egg, simply omit it and add an extra 1-4 tablespoons of milk or cream to the dough.
Scones are the best the day they are made. I recommend only baking what you need, and freezing the rest of the dough as in the Make Ahead section.
Recipes from the past: